World news story
Monitoring Political Finance project in Tunisia
Arab Partnership supported project on supporting democratic transition.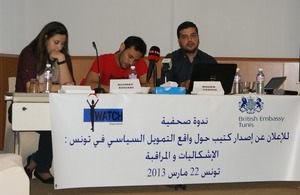 Through funding from the British Foreign & Commonwealth Office, the International Foundation for Electoral Systems (IFES) supported the development of the 'I Watch' Handbook on Monitoring Campaign Finance and regional briefings on campaign finance for I Watch's local representatives.
'I Watch' is a youth-led NGO that seeks to empower young people to fight corruption, observe elections and advocate for change. 'I Watch' is the only organization working in Tunisia on campaign finance, particularly vote buying, and abuse of state resources. It advocates for the adoption of a legal framework on campaign and political party finance that is in line with international standards.
The Handbook on Monitoring Campaign Finance is the first of its kind in the region. It will serve as the basis for unprecedented campaign finance monitoring efforts in Tunisia and North Africa. To mark its launch, a press conference was held on 22 March 2013 in Tunis to explain its content to local media, civil society organizations and other interested stakeholders, including political parties. The handbook lays out the principles of professionalism, impartiality, non-partisanship and non-interference in the electoral process that guides the work of I Watch.
President and Founder of 'I Watch' Mouheb Garoui said that I Watch will be the first NGO in the history of Tunisia to monitor campaign finance, and the first after the Arab Spring, explaining that by monitoring campaign finance, 'I Watch' is closing a gap – as no watchdog organizations observed campaign finance during the last elections.
For her part, Yosra Mkadem, Manager of the Project on Monitoring Campaign Finance, stated that
when undertaking campaign finance monitoring, 'I WATCH' understand its responsibility to be transparent about its work. By publishing its monitoring handbook, I WATCH seeks to set an example by applying to itself the very principle of transparency that it requests other State institutions to apply.
For more information
Published 11 April 2013