Modular courts piloted to meet soaring workloads
Temporary courtrooms are being used to extend a busy crown court and help it to meet its increased workload.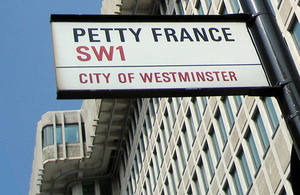 The prebuilt units, known as modular courts, have been placed on site at Woolwich Crown court as part of a £10m scheme to provide five additional courts.
As well as increasing courtroom capacity at the busy court, the initiative is also allowing MoJ to pilot the concept of a standard modular courtroom that can be used to help meet short-term increases in Crown Court workloads.
Court Manager Michelle Filby said:
'We are very proud to be piloting such an innovative project, where staff and judiciary have had input into the building facilities and operational management.'
Modular courts have been used in the past - most recently in Cambridge, where modular magistrates'courts were used while the new courthouse was being built.
The modular buildings will also provide public waiting areas, meeting and interview rooms, office accommodation for staff, judicial chambers, a jury lounge and retiring rooms, as well as a custodial holding area.
Published 3 February 2011