Modernising copyright to help strengthen contribution to growth
Government has announced new legislative measures to update and strengthen the UK's copyright licensing system.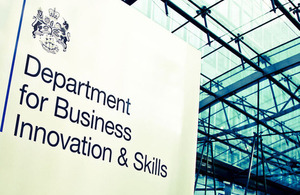 2 Jul 2012
---
---
New clauses will be included in the Enterprise and Regulatory Reform (ERR) Bill to:
Allow the creation of a future 'orphan works' scheme to open access to valuable material that currently can't be licensed or used
Put in place a voluntary regime for extending collective licensing to help reduce complexities in the system
Reserve a power to introduce statutory codes of conduct for collecting societies if they fail to operate to minimum standards.
Government also plans to introduce a power to implement a recent EU Directive on the term of protection for sound recordings in a way that keeps the UK's current strong criminal penalties for copyright infringement.
Business Minister Norman Lamb said:
"It is vital that we make the most of our creative industries, boosting their contribution to the economy while ensuring protection of the rights holders. The copyright licensing system has been behind the times and we need to modernise and make it fit for the 21st century.
"The measures we plan to introduce as soon as possible would make it easier for those seeking access to, and use of, copyrighted works. Freeing up so-called 'orphan works' will allow use of works for the first time, making the most of untapped economic and creative potential. Extending licensing arrangements for collective societies, whilst ensuring rights holders are protected, will also help maximise the benefit for the UK's world-class creative industries."
Government developed these measures in response to recommendations from the Hargreaves review of intellectual property. The draft clauses will be published shortly, and will be subject to scrutiny as part of the ERR Bill's progress through Parliament.
Harnessing the value and making the most of the UK's intellectual property is a vital element of a vibrant and modern economy. The measures outlined today will form an important part of the Government's growth strategy, the Plan for growth, making sure the UK is one of the best places to start, finance and grow a business.
Links
Published 2 July 2012