Modernised homes for Fareham Service families
The improvements, which include new kitchens, new bathrooms with showers, improved storage space, better insulation and full redecoration, bring…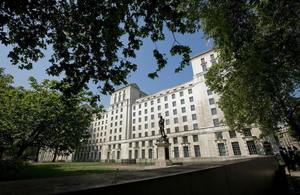 The improvements, which include new kitchens, new bathrooms with showers, improved storage space, better insulation and full redecoration, bring the properties up to modern standards - giving Service families safer, more comfortable living accommodation.
Commenting on the improvements, the Captain of HM Naval Base Portsmouth, Captain Paul Lemkes (Royal Navy), said:
As the Local Service Commander responsible for the oversight of Service Families Accommodation (SFA) in the wider Portsmouth Area, I welcome the upgrade programme in the Harcourt Road area.
"The quality of the work is impressive and has made a huge difference to the quality of housing provision for the residents in Fareham. I hope that the programme can be extended to other parts of the estate in due course."
A total of 55 Service Family Accommodation (SFA) properties are undergoing major refurbishment work at the site, where the majority of the homes are three bedroom properties. A small number of two bedroom houses are also being upgraded.
External improvements include replacement roofs and windows, as well as new external doors. New patios and replacement fencing are giving the outdoor spaces at the properties a much needed make-over as well.
Speaking about the refurbishments to her home, a resident of one of the improved Service Family properties said:
What a difference, I love my kitchen and I want to keep this nice. Even though they are older houses they now look so modern.
Kim Richardson OBE, Chair of the Naval Families Federation (NFF), added:
The upgrade programme undertaken in Fareham is welcomed by the NFF team. We feel that Naval Service personnel and their families have been provided with the quality of accommodation they deserve.
John Brown, Assistant Head of DE Operations Housing (Estate Management Upgrade Programme), said:
DE's top priority is supporting our Armed Forces and their families. These refurbished homes have been completed to a high specification and professional standard. The quality of the work and the finish means that the houses have been very well received by the local Service families.
"We're delighted to be making a positive and valuable contribution to Service life at Fareham - and look forward to completing the final phase of the project next summer."
Published 24 November 2010