MOD team to examine WWII wreck in South Atlantic
A Defence Equipment and Support (DE&S) team is heading to the South Atlantic to survey a tanker sunk by a German U-boat in World War Two.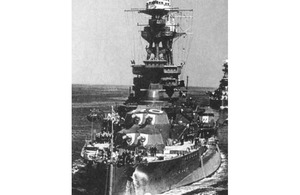 A fortnight on an island close to the equator in the spring might sound like the ideal getaway.
But members of DE&S' Salvage and Marine Operations (SANMO) Team will be hard at work on the South Atlantic island of St Helena - one of the earth's more remote spots - later this month, examining the wreck of a tanker sunk during World War Two.
RFA (Royal Fleet Auxiliary) vessel Darkdale became the first British ship sunk south of the equator during the war when U-68 slammed four torpedoes into her side as she lay at anchor off Jamestown in the early hours of 22 October 1941.
Now oil is gradually seeping from the hull into the 40-metre deep waters of James Bay and the DE&S survey will decide what, if any, action is needed to prevent the Darkdale becoming an environmental hazard to an island where tourism is on the increase.
Matt Skelhorn, the team's wreck research analyst, said:
St Helena was an important stopping-off point for ships passing to South East Asia, particularly with war taking place in the Mediterranean.
"Darkdale had been in St Helena for some weeks and refuelled some pretty large warships. There was no anticipation of a submarine attack on her. > > She blew up, broke in half and sank. The bow section turned turtle, the stern section is on its side. We don't know how much oil is on board and until we start doing an in-depth survey of her we cannot be certain. > > There was a big explosion and she was set on fire before she sank, so a lot of that oil could have gone anyway. > > We know she's been leaking small quantities periodically ever since and there are munitions on board too. The wreck is gradually degrading.
The team has been tasked as part of a legacy wrecks remediation programme to go down and survey her. Information is critical and desk-based assessment beforehand pulls together as much detail about the ship as possible.
The team has scoured the archives, looking at photographs, plans, diagrams and logs to find out as much about the Darkdale as possible.
Official British records have provided a partial picture but much information has come from Captain Karl-Friedrich Merten, the Commander of U-68, who scrupulously compiled logs and recorded details of the types of torpedo used on the night of the attack and their exact targets.
The log of a Norwegian ship which refuelled the Darkdale some days before was also useful and local divers' knowledge has added to the picture.
A nine-strong team leaves on 26 April with the survey set to last a fortnight.
SANMO's team includes personnel from its Marine Salvage Units at Devonport and Greenock who will operate their remotely-controlled underwater vehicles and multibeam sonars. They will be accompanied by a scientist and three contractors who will provide the environmental expertise.
With all the kit in a huge container the team will fly from RAF Brize Norton to Ascension Island - St Helena is still one of the few places in the world you can't fly to, yet - before a Royal Mail ship will take them on the final leg of their journey to the island:
We will survey the wreck and its surrounding area," said Matt Skelhorn. "We will find out how many holes she has, what damage the torpedoes did, work out which tanks the oil is leaking from, to get as detailed an overview as possible.

In the meantime the environmental team will be continuing work to consider the impact of the oil leaks on local marine life and the potential for further pollution.
The guys who will be leading the survey are very experienced. I don't think Darkdale will pose a huge technical challenge in surveying the wreck, it's just a matter of physically getting out there.

We're doubling up with pretty much all the kit we are taking with us, because if anything breaks down it's not as if you can pop out to replace it. We will be completely self-sufficient.

Then we draw all the evidence together to provide a report on what the situation of the wreck is and what potential problems there are. Does the amount of oil justify further work? Do we put monitoring measures in? We simply don't know yet.

And we make this information available to as wide an audience as possible because it is historically significant.

The kind of wrecks we deal with won't necessarily be the most well-known ones - HMS Hood, wrecks from Jutland, you can get a book off the shelf in the library about those, but few will have heard of Darkdale unless they have a personal interest in it.

Because of the work we will be doing it will allow that story to be more widely known.
Team members are conscious of sensitivities too - 41 of Darkdale's crew went down with the ship.
The team plans a wreath-laying ceremony and it is also a high profile opportunity to show off their capabilities.
Much of the team's previous surveying has been of the Royal Navy battleship HMS Royal Oak, sunk by a U-boat in Scapa Flow early in World War Two. She is one of 1,500 Royal Navy or MOD-operated merchant vessels which lie on the ocean floor around the world.
Most pose no threat to the environment but the SANMO Team has begun research on around a dozen in preparation for possible future surveys:
We have been working on the Royal Oak since the 1990s so Darkdale is a natural progression for us," said Mr Skelhorn.

It is important as we will be testing the methodology of what we do but St Helena isn't the first place we would have chosen to test because of the amount of logistics involved. If it comes off though it will set the standard for the future.
RFA Darkdale
Previous name: Empire Oil
Class: Dale Class freighting tanker
Laid down: October 1939
Builder: Blythswood Shipbuilding Co Ltd, Glasgow
Launched: 23 July 1940
Entered service: November 1940
Out of service: 22 October 1941
Length: 141 metres
Beam: 18.7 metres
Tonnage: 8,145
Propulsion: diesel
Armaments: 1 x 4.7-inch (11.9cm) gun, 1 x 12-pounder (5.4kg) gun, 2 x 'Pig Troughs', 2 x Hotchkiss machine guns, 2 x Marlin machine guns, 2 x Lewis machine guns, parachute and cable rockets.
There were planned to be 19 ships of the Dale Class.
4 August 1941: arrived in St Helena to act as Fleet Oiler carrying 3,000 tons of fuel oil, 850 tons of aviation spirit, 500 tons of diesel oil and some lubricating oil.
17 September 1941: refuelled aircraft carrier HMS Eagle and cruiser HMS Dorsetshire.
22 October 1941: torpedoed by U-68 which reported that Darkdale exploded, turned over and sank within five minutes. 41 were killed. The Master, Chief Engineer and Purser were dining with the Garrison Commander in the military barracks above Jamestown, two Ratings lay in Jamestown Hospital, and a further two were on a run ashore, trying to get back to their ship, when the torpedoes struck at around 0015hrs.
The crew who were lost are remembered with pride on the Tower Hill Memorial in London and on the Cenotaph at Jamestown in St Helena.
20 April 2009: during a visit to St Helena by RFA Gold Rover a memorial service was held at the Jamestown Cenotaph and wreaths were laid.
This article is taken from the April 2012 edition of desider - the magazine for Defence Equipment and Support.
Published 12 April 2012