MOD scoops gold for social media awareness campaign
A MOD educational campaign warning the Defence community about the importance of guarding personal information when using social media channels has won the Gold Award at the communication industry's IVCA Awards.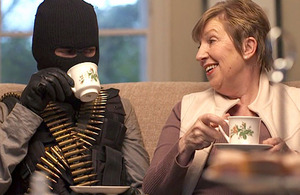 The International Visual Communications Association (IVCA) Awards are recognised internationally as a premier mark of excellence for effective business and public sector communications in video, interactive projects, television and digital media.
The MOD campaign, produced by the Directorate of Media and Communications (DMC) together with CTN Communications, is entitled 'Think Before You… Share' and won the Gold Award for Best Public Relations.
It offers guidance for personnel using social media sites like Twitter, Facebook and YouTube, and warns users about the risks of releasing too much information about themselves or other operational details.
The guidance is incorporated into Phase 1 training when new recruits first join the Services and into other mandated training materials for serving personnel.
Risks to Service personnel - and potentially their families - include posting details and locations of troop movements and operational events, and locations and travel details of ships or aircraft, as well as people's home addresses. If inadvertently released, information such as this could give the UK's enemies the upper hand.
On winning the award, Simon Wren, Director MOD Media and Communications, said:
I am delighted that our 'Think Before You… Share' campaign won a Gold Award at the prestigious IVCA awards.
This shows what can be achieved with a clear message delivered in an engaging manner, all made possible by excellent teamwork between the Ministry of Defence and our video partner CTN Communications.
DMC Head of Online Engagement, Pippa Norris, who collected the award with colleagues at the awards ceremony at the Grosvenor House Hotel in London on Friday 23 March, said:
We are thrilled to receive this award because it demonstrates two very important things.
Firstly, the security of our people is of utmost importance, and secondly, that social media is not something to be demonised but to be used safely and responsibly.
We want everyone to enjoy and make the most out of social media in the widest possible sense. Hence we want them to apply common sense and to 'Think before they Share' online.
To be able to work on such a fun campaign with colleagues from other parts of Defence (with whom we rarely have any contact) proves that we can deliver highly effective and engaging campaigns that we can all be proud of.
There was also further success at the awards with the 'Don't Bottle It Up' campaign, which encourages Armed Forces personnel to talk more about their problems, winning the Silver Award in the same category.
Published 27 March 2012