MOD scientists' work on life-saving armour honoured
The nomination is for a ceramic protection system, which can be attached to vehicles to provide effective protection against hostile gunfire…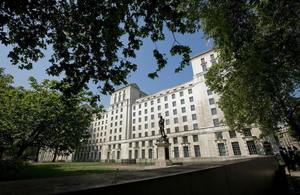 The nomination is for a ceramic protection system, which can be attached to vehicles to provide effective protection against hostile gunfire, developed and patented by Dstl and exploited by Coventry-based NP Aerospace as CAMAC® EFP.
The armour has been fielded in Afghanistan and has saved the lives of UK troops and members of the local population.
The development of CAMAC® EFP armour was made possible by collaboration - combining Dstl's specialist scientific expertise with NP Aerospace's expert engineering knowledge.
The system uses small thimble-sized hexagonal segments of ceramic held together by a moulding resin and packaged in a composite with high ballistic performance.
Dstl's research explored the optimisation of the size and geometry of small segmented ceramic components and how to arrange them into an array to provide a panel with the best protection, resulting in this life-saving armour system.
Tom Stuart, one of the project's principal scientists, said:
The Dstl team are very proud of this nomination. This armour technology represents a clear example of how MOD and UK industry have worked together to fast track this innovation from laboratory to the battlefield and save the lives of British Service personnel.
Dstl armour specialists continue to develop this technology with industrial partners on related projects, thus supporting critical research on new platforms within the UK, such as the recently procured Foxhound light protected patrol vehicle.
The MacRobert Award is the most prestigious award an engineer can aspire to and is presented annually to an organisation in recognition of innovation in engineering.
The armour appears on a four-organisation shortlist including computing giant Microsoft and British car manufacturer Jaguar. The eventual winner will receive their prize at a ceremony on 6 June 2011.
The Royal Academy of Engineering brings together the country's most eminent engineers from all disciplines to promote excellence in the science, art and practice of engineering.
Dr John Robinson, chairman of the judging panel, said:
In the academy's 35th anniversary year we are delighted to see engineering projects developed in the UK having such a global impact, from connecting people more efficiently and protecting our troops, to making lighter, greener cars and leading the games industry. British engineering is alive and well - enriching society, making a profit, and helping to rebuild the economy.
Recent winners include Arup, responsible for Beijing's 'Water Cube', but a MOD organisation has not won the award since 1991, when the Defence Research Agency was honoured for the Nightbird night-vision system.
Published 6 May 2011