MOD Police initiative helps reduce crime
An initiative by MOD Police at HM Naval Base Clyde has led to a more than 80 per cent reduction in anti-social behaviour amongst youngsters in the local area over the last year.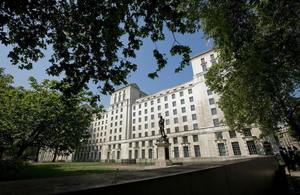 A number of community initiatives at the naval base's nearby Churchill Estate in Helensburgh have also led to the decrease, with engagement with local youngsters given a particularly high priority.
But Ministry of Defence Police (MDP) officers have recently gone one step further in looking after the welfare of local children, teaming up with the NHS and other agencies to produce credit-card-style USBs, full of essential information, which were handed out at the latest 'Blue Light Disco'.
For around the last three years, MDP officers have been running their highly successful Blue Light Discos, creating a safe, alcohol-free environment where kids can dance, listen to music and enjoy themselves without the threat of trouble.
Since beginning the initiative, and using 2007 figures as a benchmark, MDP officers have seen an annual fall in anti-social behaviour, with a 55.5 per cent decrease in 2008, a 48.1 per cent dip in 2009, and an impressive 86.6 per cent fall this year alone.
The events have grown in popularity over the years too, with attendance rising from just 50 children for the first events to the latest Halloween disco on Friday 29 October 2010 pulling in 236 kids.
During that night around 250 of the USB credit cards were handed out to the young partygoers.
There are 34 individual pieces of information on the handy 'Get Connected' USB cards - everything from advice on applying for jobs and opening a bank account to dealing with bullying and staying safe online.
And, in addition to leaflets, the information has also been stored as audio MP3 files so that users can listen to the advice and play it on mobile phones or MP3 players.
The MDP's Police Constable Tracy Ross was involved in the project that came up with the USBs, working alongside the NHS' Samantha Souter and Cathy McCuaig:
The USB cards mean that kids don't need to search the internet for information because it is all in the one place," said PC Ross.

Around 1,500 of the cards have been made and the Ministry of Defence Police have contributed £200 to their production - money raised at the Blue Light Discos.

From the Ministry of Defence Police's point of view it is a great initiative because it gives us a chance to educate the kids on crime prevention and how to avoid the dangers of alcohol, drugs and those who would wish to exploit them.
PC Ross continued:
I wish that I had access to this kind of information when I was leaving school. The cards have proved incredibly popular and the partner agencies have worked hard to put together the advice.
Last year the NHS handed out a wristband-style USB to high school pupils at both Lomond and Hermitage High Schools in Helensburgh. The bands contained useful information on health and where to get help.
MDP officers at HM Naval Base Clyde saw the opportunity to get their crime prevention messages across and this year have included information on Crimestoppers, the Blue Light Discos and protecting yourself while surfing online.
Samantha Souter, a Senior Health Promotion Specialist from NHS Highland, commented:
This is the second year we have been able to provide fourth-, fifth- and sixth-year pupils with this kind of information.
Having access to information and knowing what services are available, and how to contact them, allows kids the opportunity to take control of their lives. This is a really important factor in improving and maintaining mental and physical well-being.
Cathy McCuaig, who is a Community Psychiatric Nurse with NHS Greater Glasgow and Clyde, continued:
Children in the age groups we are targeting are in a transitional period. Most are in their teens and some are getting ready to leave school and make their way in the adult world.

It can be a vulnerable time and it is especially important that they get good quality, practical information to help guide them and keep them safe.
Other organisations which have been involved in the production of the USBs include the Route 81 Youth Project, Rape Crisis, UK Youth, and Argyll and Bute Council.
Copies have also been made available to local organisations working in the Helensburgh and Lomond areas.
Ongoing since 1 February 2008, the MDP's Blue Light Discos are run in partnership with the Royal Navy Police and Strathclyde Police. The events give police and local children a chance to meet, putting a face to community policing.
Every one of the attendees at the discos is breathalysed on entry as are the volunteer helpers. This interaction between the kids and the police makes the Blue Light Disco one of the safest and most secure events of its kind.
Published 19 November 2010