MOD looks at sustainability during Climate Week
The Ministry of Defence is joining other government departments, companies, charities, schools, local councils and other organisations in the UK's first national event to inspire people to combat climate change.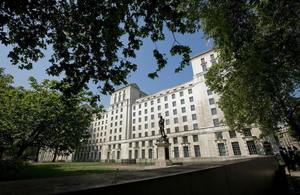 Climate Week, which runs from 21 to 27 March 2011, is a national event that offers an annual renewal of Britain's ambition to better understand the impacts of and the need to adapt to combat climate change.
It is of particular importance to the MOD as the UK National Security Strategy 2010 recognises that under some circumstances climate change and resource scarcity increases the likelihood of conflict, instability and state failure.
Climate change is affecting the environments in which our Armed Forces operate whilst resource depletion is increasing competition for critical resources (including fossil fuels) and may result in capabilities becoming unsupportable and/or unaffordable.
To address the military and operational risks posed by climate change and energy security, everyone in MOD and the Defence Sector needs to understand the operational effectiveness challenges and work to provide sustainable through-life operational capabilities.
This includes addressing estate and equipment performance to maximise through-life energy efficiency, reducing our dependence on fossil fuels, exploiting alternative energy technologies, and embracing innovative approaches to the delivery of capability.
This starts at the MOD strategic planning and capability planning stages and continues all the way to disposal of our capabilities.
It also includes our behaviours, equipment use patterns and decision making. Embedding sustainable thinking, design and behaviours through-life will assist in making the MOD more resilient to future economic, social and environmental conditions and achieve maximum operational effect and through-life cost effectiveness.
For instance, if we can reduce our reliance on fossil fuels on operations, we reduce operational and energy security risks due to interdiction of theatre fuel delivery, and through-life capability operating costs.
Analysis indicates that delivering fuel out to the remotest locations in theatre can be between two and ten times the cost of the 'pump price'; this does not include the human cost we pay to fuel our forces in theatre.
Reducing fossil fuel use also contributes to reducing the MOD's global carbon footprint, balancing this with operational need.
Sustainability is fundamental to ensuring that defence capabilities are able to operate in a variety of changing environments without reliance on ever more scarce and expensive resources, including energy.
It is important, therefore, that sustainability is addressed during all stages of the acquisition process and in our day-to-day activities and behaviours.
Published 23 March 2011