MOD kick-starts tendering for east region construction projects
The Defence Infrastructure Organisation (DIO) has begun the tendering process with 10 shortlisted companies for the first of its regional framework arrangements for construction projects on the Defence estate.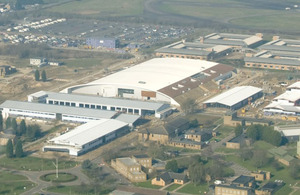 The Regional Capital Works Framework East Midlands and Eastern England will include up to five companies who will participate in 'mini-competitions' for the design and build of construction projects in this region valued up to £12m. It will be awarded by August 2013 and run for an initial four-year period, with the potential to extend for up to three years.
The arrangement has an estimated value of between £100m-£250m and could be used at any site across this region. Key sites include RAF Waddington, RAF Cranwell, RAF Wittering, RAF Marham, RAF Wyton, RAF Honington, Chetwynd Barracks (Chilwell), the Defence Intelligence Services Centre (DISC) at Chicksands, Woodbridge Barracks and Carver Barracks in Wimbish.
The tenderers shortlisted for the framework are Babcock Support Services Ltd, Henry Brothers (Magherafelt) Ltd, Interserve Construction Ltd, Leadbitter Group, Lend Lease Construction (EMEA) Ltd, Mansell Construction Services Ltd, Morgan Sindall plc, Shepherd Construction Ltd, Skanska UK plc and VINCI Construction UK Ltd.
The bidders recently attended a conference at RAF Brampton focused on the ongoing 'Invitation to Tender' process and the proposed operating model for the framework. Delegates were also taken step-by-step through a typical Defence construction project, looking at processes involved, legislative influences, sustainability and other requirements.
Each tender will be rigorously evaluated based on the company's approach to commercial and technical matters such as supply chain management, quality assurance, sustainable development, health & safety, and issues relating to the Government Construction Strategy. The bidders have also been provided with a demonstration construction project and will be evaluated on their proposed approach to its delivery.
Jon Wooden, NGEC Capital Works Frameworks project manager, said:
The Defence estate is expected to undergo major change over the coming years - including across the eastern region and we are determined to find the best companies to meet the evolving requirements for capital works.
The quality of our estate impacts on the effectiveness and morale of those living and working on it, so those companies winning projects via this framework will play a significant role in ensuring the best results for our Armed Forces.
Alongside the East framework, it is expected that the short-listed companies for the National Capital Works Framework - for projects valued up to £50m - will be invited to tender later in the year. Procurement plans for the other regional frameworks will be announced in due course.
The forward plan for the delivery of construction projects will be determined by the Defence Infrastructure Programme, which balances future requirements against affordability levels, and the MOD's emerging "Footprint Strategy", which is focusing on the optimum geographical solution for meeting those requirements.
Published 19 July 2012