MOD Information Excellence Awards celebrate those who make a difference
The best in inspiring leadership, innovation and exemplary practice have been recognised in the inaugural MOD Information Excellence Awards.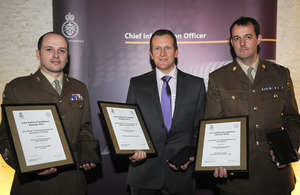 Held in the Henry VIII Wine Cellar in the basement of the MOD's Main Building on Whitehall on Thursday 12 April 2012, the awards were hosted by the Vice Chief of the Defence Staff, General Sir Nicholas Houghton.
Welcoming the award winners and the assembled audience General Houghton said:
It is apt that we meet in the oldest venue in the building as we open these Information Excellence Awards and their clear links to contemporary Information Technology [IT]. However, this technology will be ineffective without sound leadership, innovation and standardisation across the Department.
Ultimately it is our people who will ensure that information is treated as a strategic asset and available at the right place and time to enable the right decision in order to deliver the right effect and achieve the right outcomes.
The award winners, many of whom are not in Information Management roles, are indicative of the qualities we require to drive this transformation forward.
There were three award categories: Inspiring Leadership, Innovation, and Exemplary Practice.
Inspiring Leadership Award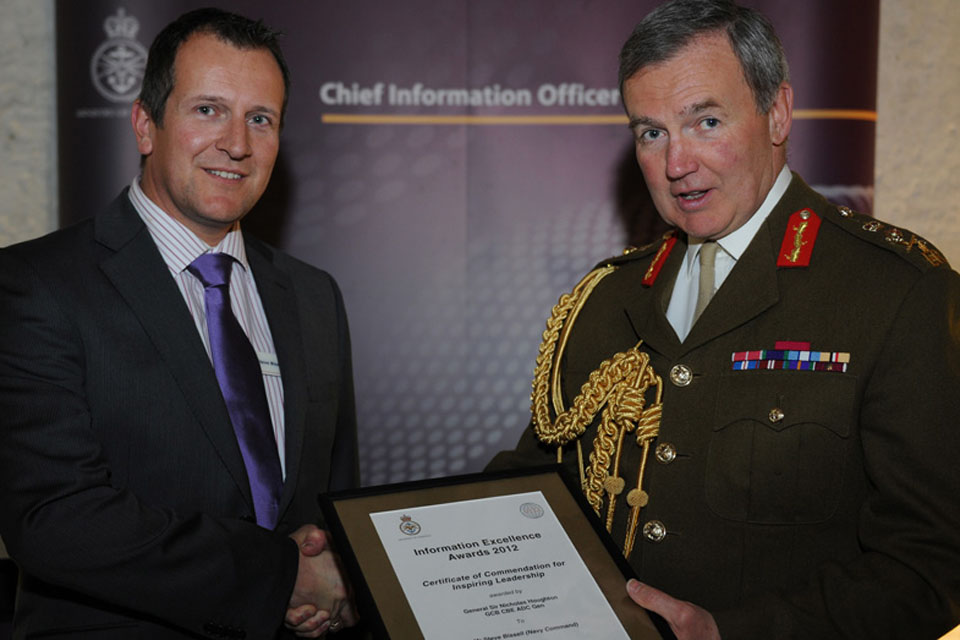 Mr Steve Bissell won this award whilst working for the C4ISTAR (Command, Control, Communication, Computers, Intelligence, Surveillance, Target Acquisition and Reconnaissance) team in Navy Command. The award recognised the fact that over the past two years he has shown magnificent leadership and acceptance of responsibility in leading both Navy Command and mentoring other defence organisations through the technical complexities of introducing collaborative working tools to the Defence Information Infrastructure.
By working exceptionally closely with defence organisations, technicians and other contract staff - often at weekends and whilst on leave - Steve drove forward the development and introduction of an IT tool designed to capture collaborative working capability requirements across Defence.
This new tool - called MDBA - has now been adopted as the MOD standard and is being taught at the Defence Academy's Information Management courses.
Without Steve's leadership, team working, commitment and ability to recognise the bigger Defence information management landscape, it is unlikely that the timely and efficient adoption of collaborative tools - so vital to improving our management and exploitation of information - could have been achieved.
Innovation Award
Warrant Officer Class 2 Mark Lavender won this award for the development of innovative solutions that embrace current technology to enhance, improve and streamline communications across a joint Service environment.
Prior to WO2 Lavender's intervention, the maintenance, amendment and distribution of tactical air transport and air drop checklists was a laborious task. More importantly, the Air Despatch Examination Team were unable to provide total assurance that all checklist owners were maintaining their edition to the latest amendment.
WO2 Lavender was the driving force behind an innovative solution designed to rectify these concerns. He produced a web-based repository of information where amendments could be carried out quickly and ensured the availability of up-to-date and authoritative information for Army and Air Force crews.
In addition to promoting assurance and a strong safety culture regarding aerial delivery activities across Defence, there has been a noticeable reduction in malfunctioned air drops, and the feedback from operational theatres, e.g. Op HERRICK, is extremely positive.
Exemplary Practice Award
Warrant Officer Class 2 (Artificer Quartermaster Sergeant) John Fleming won this award whilst part of the 3rd Battalion The Royal Regiment of Scotland Battle Group, based in Forward Operating Base Shawqat, during Op HERRICK 15. WO2 Fleming inherited an information infrastructure that was suboptimal.
There was no discernable file structure and no file 'weeding' had been conducted since 2008. There was nothing to encourage collaborative working and technical limitations meant that the Battle Group had to manage information on both a local shared server and a remote MOSS (Microsoft Office SharePoint Server) site - based in the Main Operating Base in Lashkar Gah.
Despite having the responsibility of helping to run an extremely busy Light Aid Detachment, WO2 Fleming took personal responsibility for information management within his area of responsibility. He ensured that information was labelled properly - using MOD standards - and stored in the appropriate area.
With a clear understanding that managing information well is a prerequisite to exploiting it effectively, he also acted as the key advisor to the design and management of the Nad 'Ali MOSS site. His enthusiasm for implementing effective information management and collaborative working subsequently spread throughout the Nad 'Ali area and resulted in a positive improvement in operational effectiveness.
Following his return from Op HERRICK, WO2 Fleming has continued to take a proactive interest in implementing good information management and has set the groundwork for his unit's transition to MOSS (which is scheduled for late 2013).
Published 20 April 2012