MOD hosts industry event for East Midlands and Eastern England Regional Framework
The Defence Infrastructure Organisation's Next Generation Estate Contracts (NGEC) team has staged an Industry Day event for companies interested in the new commercial arrangements for construction projects in the East Midlands and Eastern England Regional Framework.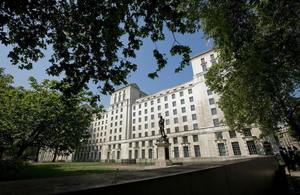 The event was the second in a series of NGEC Industry Days to be staged this year, and follows the issue of a pre-qualification questionnaire (PQQ) to potential bidders for the first of the six Regional Capital Works Frameworks.
It was held at the Skyway Centre at RAF Wyton, in Cambridgeshire, and attended by delegates from more than 110 companies, including many regionally based enterprises. A number of military customer representatives were also present.
The aim was to provide potential bidders and suppliers with an overview of Defence, the NGEC programme, and the establishments in which successful bidders could expect to deliver construction projects.
Speakers included Brigadier John Wootton, Director of Infrastructure Land Forces, who provided delegates with a flavour of frontline Defence activities including current operations, as well as NGEC senior managers Steve Rice and Mike Pearson, and Jon Wooden, the Capital Works Frameworks project manager. The day also provided potential main contractors and small and medium-sized companies with the chance to discuss potential sub-contracting opportunities during a networking session, and to put pressing questions about the programme to an NGEC panel.
Mike Pearson said:
"> There is a high level of interest in these commercial opportunities, and this event enabled interested businesses to develop their understanding and appreciation of what is at stake.
The six Regional Capital Works Frameworks were created specifically to increase the opportunities for small and medium-sized enterprises to be involved, and it was particularly pleasing to see a high proportion of delegates representing local businesses.
Published 19 April 2011