MOD honours Conservation and Energy Award winners
The Sanctuary Awards are held in recognition of both group and individual efforts undertaken to benefit wildlife, archaeology, environmental…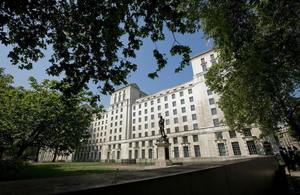 The Sanctuary Awards are held in recognition of both group and individual efforts undertaken to benefit wildlife, archaeology, environmental improvement or community awareness of conservation on or within MOD land in the UK or overseas.
The Energy Awards recognise an individual and team for their efforts here in the UK and overseas to conserve energy and cut carbon emissions.
The 2011 Sanctuary Awards were divided into four categories: Environmental Project, Heritage Project, Sustainability Project and Individual Achievement. The winners of each category are considered for an overall winner who receives the top Silver Otter Award.
Amongst this year's winners are a project which improved public access to the Castlemartin Range within the Pembrokeshire Coast National Park and an individual who pushed the boundaries of conventional thinking to involve staff in sustainability, introducing many 'firsts' for the MOD.
Maj Gen Nick Ashmore, Director of the Strategic Asset-management and Programme Team (SAPT) at the Defence Infrastructure Organisation, presented the winners with their awards.
Maj Gen Ashmore said:
The Sanctuary and Energy Awards recognise the excellent work that we know is going on across the estate by both individuals and teams, and the variety of work being recognised here today is fantastic.

While the priority for the MOD is the generation of military capability, we are constantly mindful that we have a duty to care for the environment around us.

These awards are an excellent illustration of how a government department can encourage both volunteers and professional staff to achieve outcomes that provide significant benefits to the natural and historic environment, and can also save the taxpayer money.
The ceremony also marked the launch of this year's Sanctuary magazine. This is an annual publication, which illustrates how the MOD is undertaking its responsibility for stewardship of the estate in the UK and overseas.
The publication was launched by Minister for Defence Personnel Welfare and Veterans Andrew Robathan MP, who said:
I am extremely pleased to be launching the 2011 edition of Sanctuary magazine, which showcases conservation on the Defence estate, particularly partnership working. This excellent publication illustrates some of the ways we are integrating an evolving military requirement with the sustainable management of the estate. I would also like to thank our industry partners, without whose support and sponsorship Sanctuary would not have been published this year.
_
Sanctuary Award Winners_
**Silver Otter Winner: Castlemartin Access **
Environmental Project
Winner: Castlemartin Access
Runner Up: Cadet 150 Tree planting
Highly Commended: Cawdor Conservation
**
Individual Achievement Winner: Robert Tolley, Debut
Runner Up: Helen Clark, MHS
Highly Commended: Kevin Teesdale, Military Dog Section, Bielefeld
**
Heritage Project Winner: Cape Wrath Training Centre
Runner Up: World War 2 Neptune Wrecks
**
Sustainability Project Winner: RM Instow Site Development
Runner Up: SW Bunds Water Management
Runner Up: Bicester Pallet Waste Recycling
Highly Commended: RAF Leuchars Integrated Welfare Facility
**
Energy Award Winners
**Individual Achievement Winner: Les Walshe, Blandford Garrison
Runner Up: Nicky MacNeil, Universities of Glasgow & Strathclyde Air Squadron
Highly Commended: David Thomas, Carbon Trust
Team Award Winner: PJHQ Sustainable Development Team
Runner Up: Abbey Wood Green Travel Campaign
Highly Commended: DISC Chicksands Ground Source Heat Pump**
Published 10 November 2011