MOD graduates get young engineers up to speed
Children from eleven primary schools across Bristol have taken part in a project run by graduate trainee engineers from the MOD's Defence Engineering and Science Group (DESG).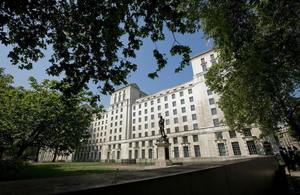 Each year, a graduate development project is organised for new graduates to engage in - and this year more than 70 trainees have worked with local schools to encourage interest in science, technology, engineering and maths.
The schoolchildren were set a task related to the 'Bloodhound' project - which plans to set a new world land speed record next year - in which they had to build their own fast cars facing tough engineering challenges, but on a scale suitable for their age group.
The graduates' role saw them go into the schools to be interviewed by Year Six children about what life as an engineer is like. The graduates also helped the children to design, build and test their cars.
The teams with the fastest cars attended a prize-giving at the University of Bristol where they raced their cars against each other, were interviewed by MOD engineers, and also took part in an engineering challenge to build the tallest tower.
Rod Drake, who leads the training scheme, said:
This was a hugely rewarding and enjoyable event for all who took part. With the aim of inspiring our next generation of engineers, it was heartening to see schoolchildren really engaged and excited about engineering.

It is always a challenge for our graduates to fit this sort of project around their busy DESG training schedule and placements. But I'm pleased to say they all rose to this challenge.
Susan Scurlock, from the charity Primary Engineer, added:
The children were enthused not just by the project, but by the engineers taking part. We are really proud of the way the DESG graduate engineers have worked with the schools.
The DESG Graduate Scheme supplies the MOD with sufficient numbers of graduate engineers and scientists and trains them for their future careers.
The scheme enables each graduate to get the most from training courses and work placements within the MOD and industry. Each graduate gains a breadth of MOD engineering experience in readiness for their first professional posting which furthers career development by making it possible to achieve chartered status in just four years.
Please tell us what you think about government news on the web by filling in the short survey at Related Links.
Published 17 July 2012