MOD conservation and energy champions celebrated for outstanding achievement
The Ministry of Defence today announced the winners of its prestigious Sanctuary and Energy Awards during a ceremony in London.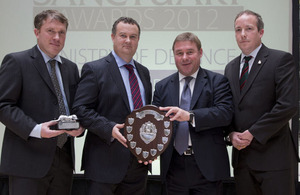 The Sanctuary Awards are held in recognition of both group and individual efforts undertaken to benefit wildlife, archaeology, environmental improvement or community awareness of conservation on or within MOD land in the UK or overseas.
The 2012 Sanctuary Awards were divided into four categories: Environmental Project, Heritage Project, Sustainability Project and Individual Achievement. The winners of each category were considered for an overall winner to receive the top Silver Otter Award.
The Energy Awards recognise individuals and teams for their efforts here in the UK and overseas to conserve energy and cut carbon emissions.
Amongst this year's winners are the Officer-in-Command of RAF Brize Norton, the Sustainability Team from RAF Northolt, the Health & Safety Officer from RAF Boulmer, a project to create a new fire training facility in a former Second World War airfield in Cornwall, and Operation Nightingale - a unique project using archaeology to boost the recovery of soldiers wounded in Afghanistan.
Presenting the awards, Mark Francois, Minister of State for Defence Personnel Welfare and Veterans, said:
The Sanctuary and Energy Awards recognise work across the MOD estate that benefits wildlife, archaeology and the environment. They celebrate people who not only protect our heritage and environment, but also collectively save the British taxpayer millions of pounds.
The MOD's priority must always be support to the servicemen and women currently risking their lives on operations. Nothing should distract us from this mission, but neglecting the sustainability of our work today will make it difficult to support the operations of tomorrow.
The ceremony also marked the launch of this year's Sanctuary magazine. This is an annual publication which illustrates how the MOD is undertaking its responsibility for stewardship of the estate in the UK and overseas.
Published 16 October 2012