MOD brews up for SSAFA Forces Help
The annual SSAFA Big Brew Up has, once again, attracted huge support around the world.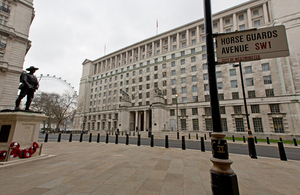 During this first week of October, people all around the world have been getting together, putting the kettle on and organising tea parties to raise vital funds for SSAFA (Soldiers, Sailors, Airmen and Families Association) Forces Help.
By the end of the week there will have been more than 500 registered events in the UK and around the world, including in Nepal, Cyprus, Germany, Slovenia, Washington and Kenya.
British Embassies are also supporting this initiative with Big Brew Ups taking place in Paris, Bucharest and Colombia.
The annual event, now in its 15th year, is a lucrative fundraiser for the military charity that helps and supports those serving in the Armed Forces and their families.
The MOD's Main Building Big Brew Up event in London took place on Wednesday and hundreds of staff broke away from their desks for a few moments, keen to do their bit for the charity.
Hundreds of cups of tea and coffee and pieces of cake were served, generously donated by caterers Amey. They also sold SSAFA merchandise alongside books, with all proceeds going to the charity. In the space of just two hours, an incredible £695.56 was raised.
Steve Hudd, Director of Fundraising at SSAFA Forces Help, said:
We are absolutely thrilled with the result and would like to thank everyone for their generosity and support.

Events like the Big Brew Up go a long way in helping SSAFA Forces Help continue to support 50,000 people in the Armed Forces community every year.

Today's event is evidence that doing something as simple as serving tea and cake can raise a significant amount, and this will make a huge difference in the lives of the men and women of Britain's Armed Forces and their families.
The Big Brew Up is sponsored by Sodexo.
Published 4 October 2012