World news story
Mobile Tech Labs: Cutting-edge mobile laboratories are bringing education in science and technology to Peru
Tecsup and Fab Foundation UK, with the support of the British Embassy, are supporting education in science and technology in Peruvian schools thanks to mobile tech labs.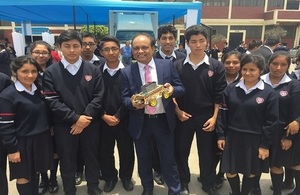 Cutting-edge mobile laboratories are bringing education in science and technology to Peruvian schools.
Education in science and technology is a key factor in fostering innovation and economic growth. In Peru, however, the demand for professionals in science and technology far exceeds market supply. Tecsup and the British Embassy in Lima are working together to promote interest among secondary school students in pursuing careers in technology.
To this end, Tecsup and the FAB Foundation UK developed the Mobile Tech Lab project, which consists of creating two mobile laboratories which allow secondary school students from vulnerable and rural areas to combine their creativity and knowledge through the STEAM methodology (science, technology, engineering, art and mathematics) and the use of design technologies, such as 3D printing, robotics, internet, and other tools, to develop solutions to the daily challenges of their respective communities.
The development of the project would not have been possible without the UK – one of the world's top 3 most innovative countries -, thanks to the FAB Foundation and the British Embassy in Lima.
British Ambassador to Peru, Anwar Choudhury, explained that:
the creation of these Mobile Tech Labs was inspired by British best practice. Strengthening research and education in science and technology in Peru is one of our priorities. Last year we managed a £1 million development fund in science and technology in Peru. We will continue this effort through our Newton Fund of £13 million, which will be available over the next four years for joint research projects between the UK and Peru.
Mobile Tech Labs will visit schools in Lima and surrounding provinces, starting in November. It is expected that, in only four months, more than 1,000 students will have benefited from the mobile labs, and more than 40 teachers trained in STEAM methodology.
Each laboratory is equipped with state-of-the-art technological systems and tools such as humanoids, 3D printers, laser printers, vinyl cutters, drones, tablets, laptops, smartphones, internet, tablets, sensors, VR headsets, software, and more.
Published 21 November 2016