Mobile banking is having global impact
Monitise/Visa Indian joint venture hailed by the British Chancellor in Mumbai visit.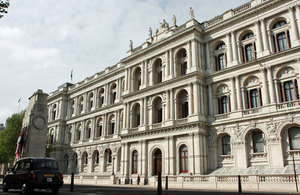 The widespread emergence of mobile banking is having a huge transformative effect in both developed and emerging economies, a pioneering 'mobile money' business leader said today in Mumbai, India.
Richard Johnson, group strategy director of Monitise plc, said: "For the full potential of mobile banking and payments to be achieved, banks, payments networks and mobile network operators have realised that they must come together in partnership and collaboration."
This type of collaboration will revolutionise the way people manage their money, and the effects will be felt worldwide, Mr Johnson added.
The development of mobile money networks will give people instant access to their finances on their mobile phone and enable them to conduct a multitude of transactions on the move, as well as having access to news and business information - and the social and economic impact will be dramatic.
Bank account holders will be able to manage their finances easily and securely anywhere in the world, transfer funds and purchase items

Mobile phone users can turn the handset into a 'mobile wallet' topped up with cash, enabling them to transfer money wirelessly and make payments in seconds
Mr Johnson, speaking to banking and telecoms leaders in Mumbai, continued: "Whether it is a consumer with multiple bank accounts who needs to stay in constant touch with their balance, or a mobile phone user who has never been in a bank or has no previous financial relationship, it is clear that India, steered by the progressive approach of the Reserve Bank, can lead the way in providing mobile financial access."
India has the world's second largest population (1.1bn people) with 200 million of a 600 million working population having bank accounts - while almost 600 million have a mobile phone

Around 91% of the US $703 billion spent by Indians annually is in the form of cash

A 2005 study by the London Business School found that an increase of 10 mobile phones per 100 people in African developing countries would increase GDP growth by 0.6%
Monitise has helped to pioneer mobile banking around the world and been recognised as a 'Technology Pioneer' by the World Economic Forum for its ability to help engage people in developing countries into the banking and financial system. Previous winners included Google and Skype.
It has just launched a joint venture in India with Visa, one of the world's leading global payments technology companies, to accelerate the delivery of mobile financial services such as banking, bill payments, mass transit ticketing, mobile top-up and others to Indian consumers.
Separately, Monitise is also developing mobile banking services in India with Standard Chartered Bank, with services for SCB's customers expected to go live in the next twelve months.
Mr Johnson was speaking today at a reception to inaugurate the joint venture with Visa, attended by the UK Chancellor of the Exchequer, George Osborne, who was leading a government delegation to India with the British prime minister David Cameron and foreign secretary William Hague.
In his address Mr Osborne stressed the importance of trade between India and the UK and praised Monitise as an example of a British business exporting its innovation and expertise overseas.
He said: "India is renowned for its world class innovation and its technology and financial services sectors are enviable. So it is great to see an entrepreneurial and innovative British company like Monitise exporting its skills and expertise to India and creating new, strong partnerships here."
The joint venture between Monitise and Visa will initially offer balance inquiries, bill payments, and ticket purchases e.g. train, airline, cinema through participating partners, before diversifying into mobile money for the 'unbanked', and electronic transfers.
Published 28 July 2010