Mitchell: Taxpayers' aid saves lives
The Secretary of State writes to the Telegraph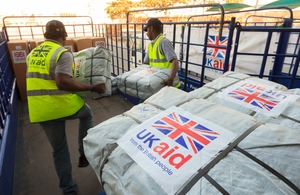 In a letter to the Telegraph today, Secretary of State Andrew Mitchell says that well-spent aid can save millions of lives.
Here is the letter in full:
"Andrew Gilligan (Comment, 21 May 2010) is right to ask that our growing aid budget is subjected to intense scrutiny. That's why I have instituted a full-scale value for money review at DFID and cancelled a number of ill-conceived projects commissioned by the previous government.
"Mr Gilligan is also right to argue that aid should be focused on the poorest, which is why we will conduct a full audit of which countries should continue to receive aid.
"But Mr Gilligan's grudging admission that aid 'sometimes helps' is unduly curmudgeonly. Well spent aid has helped to eradicate smallpox, reduce polio cases from 350,000 a year in 1988 to just 1,500 last year, and to increase the number of people on lifesaving anti-AIDS drugs from 400,000 in 2003 to more than four million in 2008. British aid is some of the smartest and most innovative in the world. For example DFID's seed-funding for mobile-phone based cash transfers, in partnership with Vodafone, has helped spur a micro-financial revolution across Africa.
"I would like to clarify our position on Singapore.  The spend to which your article refers relates solely to pensions rightly paid to long-serving crown servants and to capital invested by CDC (the UK's development finance institution which invests in some of the world's poorest countries) through a Singapore-based fund manager. At the same time, after sustained pressure from my party the China aid programme will end next year, as Mr Gilligan points out.
"Taxpayers' aid saves lives – and has the opportunity to save millions more in the coming years. Our new government will not balance the books on the backs of the poorest, whether at home or abroad."
Andrew Mitchell
Secretary of State for International Development
Published 28 May 2010