Mitchell: Aid agencies to focus on value for money
Announcement of Programme Partnership Arrangements the UK Government will support.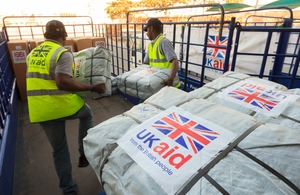 UK Government support for aid organisations will be targeted at those agencies which demonstrate they can deliver best value for money while they improve the health, education and welfare of millions of people in the poorest countries, Secretary of State for International Development Andrew Mitchell said today.
Following a detailed review of support to major charities, the British Government will provide strategic support to organisations which tackle malaria, fight child poverty, boost international transparency and other causes.
After a highly competitive process involving applications from more than 400 civil society organisations worldwide, the UK Government will support 41 agencies through Programme Partnership Arrangements.
These organisations, including Oxfam, Plan and WaterAid, were selected as having the best value for money and robust monitoring and evaluation systems.
The list includes organisations that have not previously won core funding from taxpayers, including Sightsavers, Farm Africa, Global Alliance for Improved Nutrition and Malaria Consortium.
The agreements could help:
Treat millions of children infected with malaria and help high risk countries develop drug or insecticide resistance strategies
Hundreds of thousands more children enrolled in primary education
Treat millions of victims of pneumonia and diarrhoea
Help millions of poor people access functional, sustainable and inclusive water sources and access sanitation facilities.
Andrew Mitchell said:
"These organisations are on the frontline of the fight against world poverty. British people should be proud that they will be saving millions of lives in the poorest countries.
"This support is based on these organisations' clear ability to deliver the results we all want to see. We expect these charities to work hard to prove to UK taxpayers that they will and can make a real difference to the lives of the poorest and deliver real value for money."
Rather than rely on large strategic grants, smaller charities who can demonstrate they have innovative and effective projects are encouraged to apply to DFID's new Global Poverty Action Fund. Launched earlier this year, the fund will award grants on the basis of impact and results achieved.
DFID will work closely with the successful applicants to develop their proposals in more detail. The full details of the allocations will be announced next year.
Full details of the application format and the scoring system used can be found on the PPA pages.
Published 23 December 2010