World news story
British trade mission to Venezuela
From:

Part of:

Published:

2 December 2013
This was published under the 2010 to 2015 Conservative and Liberal Democrat coalition government
British and Venezuelan oil and gas companies held several work meetings to explore business opportunities and strengthen trade links.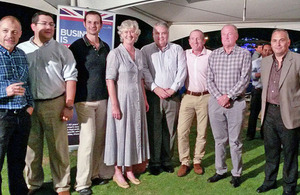 Representatives from 10 British companies visited Venezuela to explore possible alliances in the oil and gas sector. The visit took place in Caracas on 25 and 26 November, and in Puerto La Cruz on 27-29 November.
The UK Trade and Investment (UKTI) section of the British Embassy Caracas, together with the EIC Energy Industries Council, accompanied a delegation of companies from the United Kingdom to exchange experiences with Venezuelan entrepreneurs from the oil and gas sector in the areas of consulting services, equipment, offshore technology, maintenance, drilling, and power generation.
The purpose of this trade mission was to strengthen the existing links and establish new ones between the United Kingdom and Venezuela, with a view to providing support for PDVSA's production plan which envisages a significant participation from the Venezuelan private sector. In that respect, the delegation intends to:
Explore potential business and cooperation opportunities with Venezuelan companies

Establish contact with Venezuelan oil and gas firms

Forge a closer relationship with the Venezuelan Oil Chamber and State-run oil company PDVSA
The UK's oil and gas industry is characterized by highly diversified large, medium and small-sized companies in areas such as exploration, production, refining, transportation and marketing.
UKTI Head Ian Mason commented the following:
The United Kingdom has specific strengths in project management, contracting, engineering design, resource management, advanced equipment design, and specialized training, among others.
We welcome the opportunity of working with the Venezuelan energy industry, and particularly with companies in Anzoategui and Monagas states, which are very well represented within the sector.
Document information
Published: 2 December 2013