Press release
Ministry of Justice next generation electronic monitoring contracts
Ministry of Justice clarifies the position on the Buddi contract.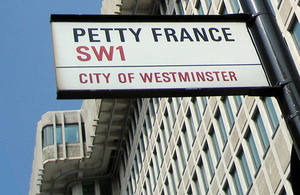 Following a number of inaccurate statements made by Buddi to the media in recent days, the Ministry of Justice believes it necessary to clarify the details of the circumstances that led to our decision to end this element of the competition and retender the contract for the supply of next generation electronic tags.
Buddi was selected as a preferred bidder in August 2013 to provide the tagging equipment. We subsequently worked with them and the preferred bidders for other elements of the service to implement a robust overall tagging regime. During this time it became clear that Buddi could not assure us that they could deliver against the full evidentiary requirements whilst also fulfilling the other critical requirements of the competition such as battery life. Our position was informed by independent expert legal and technical advice.
We subsequently worked with Buddi to see if their products could be developed to address the issues, but despite several months of discussions they were not able to do so.
It was discovered that significant development work was still required that could have put the timely delivery of the new service at risk. Testing of existing products also gave rise to some serious concerns. In this context, we were not able to provide Buddi with the firm contractual commitments that they sought that we would purchase a large number of tags before they had developed the new product, and before we knew if that new product would work.
We never asked for Buddi to give up Intellectual Property to competitors but simply to provide requisite information to those providing other elements of the service to ensure a safe and workable solution.
At a meeting between the Secretary of State, senior officials and Buddi on 3 March, we informed Buddi that we would be ending this element of the competition and launching a rapid new contracting process to secure an alternative supplier of tags.
At that meeting we informed the company that we had no wish to damage their business, and that we would try to treat the decision in a sensitive way. However given the inaccurate information now circulating about what took place, we believe it is necessary to set the record straight.
We wish Buddi well and hope that the Ministry of Justice will be able to work with them in future if they successfully develop future generations of this technology that meet the requirements of the Courts. We remain committed to working with SMEs, who represent over a third of our existing provider base. The new tender process for electronic tags will be open to other SMEs who operate in this field as long as their technology can meet those requirements.
We continue to move forward with the procurement, working effectively with those who have bid to provide other aspects of the service. The competition will deliver a high quality GPS tracking technology for monitoring offenders, and better value for money for the taxpayer.
Published 14 March 2014