Ministers welcome rise in university applications
Figures released by UCAS today show that the number of applications for higher education by people living in England has risen by 3 per cent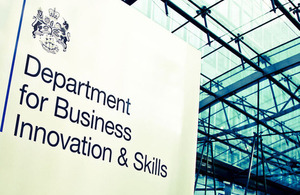 Figures released by UCAS today show that the number of applications for higher education by people living in England has risen by 3 per cent year-on-year.
Among 18-year olds, the application rate has risen by 1 per cent to 34.8 per cent and is the second highest level on record. The application rate for 18-year olds from the most disadvantaged backgrounds has risen to 19.5 per cent, the highest on record – up from 10.7 per cent in 2004.
Applications by international students have risen by 7.4 per cent.
Commenting on today's UCAS figures, Business Secretary Vince Cable said:
These encouraging figures confound the critics and pessimists who were predicting that the new system of student financing would deter young people from applying.
What is especially striking is that students from poorer backgrounds are not put off from applying. Today's figures - an all time high- clearly show they are not. Government is increasing funding for the National Scholarship Programme, which institutions can use to provide benefits including bursaries and grants, from £50 million in this academic year to £150 million in 2014-15.
There is clearly now a better understanding of the government's reforms. New students will not pay anything upfront, there is more financial support for those from poorer families and repayments are related to ability to pay subsequent to graduation, in what is in effect a graduate tax.
Universities and Science Minister David Willetts said:
Our higher education reforms are now settling down, with the number of university applications increasing once again. I am particularly pleased that younger people seem to understand how the new student finance system works, and that the number of applicants from poorer backgrounds is up.
We are determined to deliver sufficient funding for our world-class universities, a renewed focus on the student experience and more support for students. That is the best way to ensure that people are able to fulfil their aspiration to go to university.
These new figures reflect our support for universities and for students.
Notes to editors:
The full UCAS statistical release can be found at www.ucas.com.
The government's economic policy objective is to achieve 'strong, sustainable and balanced growth that is more evenly shared across the country and between industries'. It set four ambitions in the 'Plan for Growth' (PDF 1.7MB), published at Budget 2011: * To create the most competitive tax system in the G20 * To make the UK the best place in Europe to start, finance and grow a business * To encourage investment and exports as a route to a more balanced economy * To create a more educated workforce that is the most flexible in Europe.
Work is underway across government to achieve these ambitions, including progress on more than 250 measures as part of the Growth Review. Developing an Industrial Strategy gives new impetus to this work by providing businesses, investors and the public with more clarity about the long-term direction in which the government wants the economy to travel.
Published 30 January 2013