Ministers welcome plans to strengthen the Commonwealth
Ministerial Task Force focuses on recommendations for strengthening the Commonwealth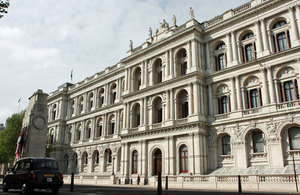 Minister of State for the Commonwealth, Lord Howell, represented the UK at the meeting of a specially convened Commonwealth Ministerial Task Force on 14 June 2012.
He joined Ministers from Australia, Barbados, Belize, Canada, India, Malaysia, Nigeria, Rwanda, Seychelles and the Solomon Islands at Marlborough House to discuss the future focus and direction of the organisation. The meeting was part of a process responding to the challenges and recommendations of the Eminent Persons Group.
The meeting, chaired by Australian Foreign Minister Senator Bob Carr, involved important discussions about what the Commonwealth means to its members, where the organisation's real strengths lie and how to strengthen its work in those areas to achieve maximum impact.
The group agreed the text of the draft Commonwealth Charter which will set out the principles and values of the Commonwealth in a single simple document for the first time. Lord Howell pushed for the language in the Charter to be as aspirational as possible. The group endorsed the recommendations which had been approved by Commonwealth Senior Officials in April, and had substantive discussions about Commonwealth election observations missions, strengthening technical assistance work, a legal personality for the Commonwealth, and entry requirements in Commonwealth countries. They welcomed the Commonwealth Secretariat's approach to their next strategic plan - which will guide the work of the organisation from 2013-2016 - and the commitment to rationalise work around areas of comparative advantage to increase effectiveness of the organisation. The group's conclusions and comments will go forward to all Commonwealth Foreign Ministers to discuss when they meet in September.
Speaking at a reception hosted by the UK at the conclusion of the meeting, Lord Howell paid tribute to the work of the Task Force:
"The Commonwealth - the Secretariat, we member states and the numerous networks and associations - must adapt in order to retain relevance and impact, and to realise the extraordinary potential it has as a truly modern network. And I am encouraged by the progress made this at today's meeting, where we discussed some of the timely recommendations of the Eminent Persons Group."
Senator Bob Carr commented:
"It's nice to be reminded that we are a unique world organisation committed to good governance, the rule of law, human rights, parliamentary democracies and that, in a Commonwealth forum, every nation including the smallest population has an equal voice."
The Secretary-General, Kamalesh Sharma noted this as a pivotal moment, he said:
"This really is a turning point for the Commonwealth. Much of this reform will be reflected in the Secretariat's new Strategic Plan. I expect our work to focus more sharply on our areas of strength and comparative advantage, especially under the mutually reinforcing broad themes of democracy, development and diversity."
Work on these issues will continue over the summer and culminate in September at the meeting of Commonwealth Foreign Ministers in New York.
Published 15 June 2012