Ministers welcome Hitachi new nuclear investment programme
Between 4 and 6 new nuclear plants to power up to 14 million homes over 60 years Up to 12,000 jobs during construction at Wylfa on Anglesey…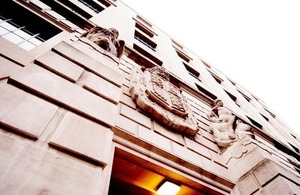 Between 4 and 6 new nuclear plants to power up to 14 million homes over 60 years
Up to 12,000 jobs during construction at Wylfa on Anglesey and Oldbury in Gloucestershire
60% of content to be British, with leading UK companies involved from the outset
New entrant brings healthy diversity to the UK new nuclear programme
Government establishes Nuclear Industry Council to help reap economic benefits
UK Government Ministers today welcomed the announcement that Japanese technology firm Hitachi Ltd has acquired Horizon Nuclear Power, the venture set up in 2009 by RWE and E.ON, in a deal that will help the UK meet its energy security and carbon reduction goals, and bring a massive economic benefit.
In what it describes as the start of a 100 year commitment to the UK, Hitachi this morning confirmed that it intends to progress with Horizon Nuclear Power's plans to build between two and three new nuclear plants at Wylfa on Anglesey and the same at Oldbury in Gloucestershire. In total this new infrastructure could generate power equivalent to up to 14 million homes over 60 years. The first plant could be feeding electricity into the grid in the first half of the 2020s.
Hitachi is making a strong commitment to the UK supply chain. About 60% of the value of the first plant is expected to be sourced from within the UK, more for subsequent units. Rolls Royce and Babcock International have already signed Memorandums of Understanding with Hitachi, which also today confirmed it intends to establish a module assembly facility in the UK.
Hitachi has also committed to develop the workforce in the vicinity of the build sites. Up to 6,000 jobs are expected to be directly supported during construction at each site, with a further 1,000 permanent jobs at each site once operational.
Prime Minister David Cameron said:
"I am determined that Britain competes and thrives in the global race for investment. This is a decades-long, multi-billion pound vote of confidence in the UK, that will contribute vital new infrastructure to power our economy. It will support up to 12,000 jobs during construction and thousands more permanent highly skilled roles once the new power plants are operational, as well as stimulating exciting new industrial investments in the UK's nuclear supply chain. I warmly welcome Hitachi as a major new player in the UK energy sector."
Energy and Climate Change Secretary Edward Davey said:
"Hitachi bring with them decades of expertise, and are responsible for building some of the most advanced nuclear reactors on time and on budget, so I welcome their commitment to helping build a low carbon secure energy future for the UK. I particularly welcome Hitachi's firm commitment to involve the UK supply chain and local workforce.
"New nuclear isn't only about keeping the lights on and emissions down, it's an industrial strategy with big potential wins. The Nuclear Industry Council I'm announcing today will play a crucial role in this, and I believe there's the potential for the UK to become globally recognised as the go-to place for the next generation of nuclear."
Energy Minister John Hayes said
"This was a commercial deal but we have been active in impressing on all interested parties that the UK economy is open and stable and our commitment to new nuclear energy is stronger than ever.
"Next month we will publish our Energy Bill aimed at bringing about crucial reforms of the electricity market to ensure energy security by providing investors like Hitachi with the certainty they need, and to get the best long term deal for the consumer."
Welsh Secretary David Jones said:
"When I was appointed Secretary of State, I made it clear that securing a future for nuclear generation at Wylfa was my number one ambition. Today's announcement is terrific news for Anglesey and the whole of North Wales. I have visited Wylfa many times and know there is a wealth of nuclear expertise and eager young apprentices on Anglesey; they can now look forward to a secure future of well-paid, high quality employment."
Hitachi's plan to build Advanced Boiling Water Reactors will help to bring diversity of reactor design to the UK new nuclear programme. The Office for Nuclear Regulation and Environment Agency will be asked to work with Hitachi to explore how to take forward the Generic Design Assessment of the reactor design to provide certainty that it is fit for use in the UK.
NUCLEAR INDUSTRY COUNCIL
Edward Davey also today announced the creation of a new Nuclear Industry Council. The Council will play a strategic role in helping ensure that the UK's nuclear industry can build on its strengths and develop the new capabilities needed to compete in a competitive global market. It reflects the government's desire to build a strong industrial strategy in partnership with industry across a range of key sectors. The Council will be chaired jointly by government and industry representatives, with Edward Davey (or Energy Minister John Hayes) and Business Minister Michael Fallon representing the government and Lord Hutton, Chairman of the Nuclear Industry Association, leading the industry side.
The Government and industry are already developing an ambitious Nuclear Supply Chain Action Plan, to be published later this year. The Plan is aimed at maximising UK economic activity and growth from the nuclear sector, including employment and business opportunities for the UK supply chain; ensuring the domestic nuclear market provides a platform for export; and raising awareness of nuclear sector opportunities, to identify barriers and help place the supply chain in a stronger position to compete for those opportunities.
NIA Chairman John Hutton said:
"The new Council symbolises the long-term strategic partnership developing between the UK nuclear industry and the Government. Through innovation and high-skilled job creation, the nuclear sector has the potential to be a driver of economic growth in the UK over the coming years. Our ambition is for it to be a globally recognised industry, with UK companies seeking and winning opportunities in the domestic and global nuclear markets."
In a separate announcement, as part of the Regional Growth Fund Round 3, BIS today announced that Sheffield University has been selected to go forward to final contracting and due diligence for a £37 million project involving continuing support for the Nuclear Advanced Manufacturing Research Centre. The Centre has launched a large-scale program of supplier development and high-value manufacturing research in partnership with key industrial members, including Rolls Royce, which will create competitive advantage in UK manufacturing supply chains.
Notes for Editors
More detail is available from the Hitachi website
Information about the forthcoming Energy Bill is available from the DECC website
The Coalition Programme for Government in May 2010 made clear the UK Government's commitment to allowing the development of new nuclear power, so long as there is no public subsidy. More detail is available on the Cabinet Office website
There are three new nuclear ventures under way in the UK. Horizon Nuclear Power's plans sit alongside plans by EdF to build initially at Hinkley Point in Somerset, and plans by NuGen to build at Sellafield.
Published 30 October 2012