News story
Ministers urge businesses to tackle employment red tape
Businesses have today been called upon by ministers to help tackle employment related law, bureaucracy and red tape in the latest phase of the…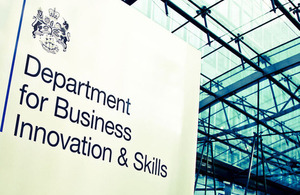 Businesses have today been called upon by ministers to help tackle employment related law, bureaucracy and red tape in the latest phase of the Employment Law Review.
For the next three weeks the Red Tape Challenge will focus on more than 160 different cross-Government employment related regulations that businesses have to deal with in all areas of the workplace.
The campaign asks for a variety of suggestions about how regulations can be improved, simplified or even abolished, whilst also ensuring that the current standard of employment rights for employees are maintained. Examples of regulations Government is seeking views on include the rules on collective redundancies, employment agencies, immigration checks, the National Minimum Wage and statutory sick pay, to make sure they are fit for purpose and easier for businesses to understand.
Business Minister David Willetts said:
"Businesses regularly tell us that the burden of regulation is too high. So today we are giving them a chance to tell us exactly which rules they think need to be reformed. The Government is committed to growth and the Red Tape Challenge is one way to make sure that we are getting out of the way and letting businesses do what they do best - taking people on and boosting the economy."
Employment Relations Minister Edward Davey said:
"We often hear from businesses that employment related regulation holds them back from growing their firms and employing more people. Whether it is the filling out of endless forms when you hire your first member of staff, the complexities of letting somebody go, or simply manage staff on a day-to-day basis, we want to review these regulations with the aim of giving business more confidence in employing people and creating more jobs.
"We are determined to tackle unnecessary, burdensome red tape that harms job creation and means employers spend less time running their business. But this does not mean this will result in a watering down of employee rights. Today we are launching a real debate with employers and employees, to listen to their thoughts and act on what regulations can be simplified, merged and abolished. This is your time to get involved and have your say on your employment law bugbears."
Group Chief Executive of Bio Group and Sector champion for the employment law theme Steve Sharratt OBE said:
"In business we often feel our voice is not heard in Whitehall, yet I think this is a real opportunity for SMEs to impact on Government thinking and policy on employment regulation. Let's see what business can do in making a difference, by saying loudly and clearly what is good and bad in the current regulations, what is effective and what is frankly ridiculous and how business believes regulation can be made shorter and simpler."
The Government will publish the results of the employment related law Red Tape Challenge theme later this year. A discussion paper, entitled 'Flexible, effective, fair: Promoting economic growth through a strong and efficient labour market,' has also been published today. This paper sets out the principles that are guiding our approach to reform of the labour market framework along with a number of thematic questions.
Notes to editors:
---
The Red Tape Challenge was launched by the Prime Minister on 7 April. It gives the public the chance to have their say on some of the 21,000 regulations that affect their everyday lives. The website is available at [http://redtapechallenge.cabinetoffice.gov.uk](http://redtapechallenge.cabinetoffice.gov.uk)

The campaign has six cross cutting themes that affect all businesses and are open throughout the whole of the campaign. The six cross cutting themes are: 1. Employment law; 2. Pensions; 3. Company law; 4. Equalities; 5. Health and Safety; and 6. Environment legislation.
For each sector theme, there is one or more experienced 'sector champions' who will provide expert knowledge on the issues faced by those on the shop floor. The champion acts as an intermediary between the sector and Government and help to direct the web-based debates and discussions.

Steve Sharratt OBE is Group Chief Executive of Bio Group. Steve is a member of the Climate Change Board, the Environmental Leadership Group of BITC, the Advisory Group to the May Day Climate Change Business Summit, is Chairman of CBI Eastern Region Council, is a member of HMRC Administrative Burdens Advisory Board and Chairman of the Princes Trust for Suffolk. He was awarded the OBE in 2009 for services to business. A blog by Mr. Sharratt on the Challenge process can be found at [http://blogs.bis.gov.uk/](http://blogs.bis.gov.uk/)

The Government's plan for growth is available at [http://cdn.hm-treasury.gov.uk/2011budget_growth.pdf](http://cdn.hm-treasury.gov.uk/2011budget_growth.pdf)

The Challenge process does not include legislation or regulations falling within the responsibilities of the devolved administrations.
The Employment Law Review is a Parliament long review looking at all aspects of employment law and is part of the Government's plans to deliver growth by breaking down barriers, boosting opportunities and creating the right conditions for businesses to start up and thrive. Since the review was announced last summer the Government has:
o Consulted on a package of reforms to the employment tribunal system, aimed at encouraging earlier resolution of disputes in the workplace and reducing the number of tribunal cases (which are costly for employers, employees and Government)
o launched an Employer's Charter that reassures employers about what they can already do to deal with staff issues in the workplace
o launched a review of the compliance and enforcement regimes for employment law, with the aim of streamlining the system
o removed the Default Retirement Age, thus removing significant paperwork obligations for employers and bringing wider benefits to the economy, making it easier for older people to continue working
o announced the proposed abolition of the Agricultural Wages Board and Agricultural Minimum Wage, pending consultation and the Parliamentary process
o commissioned an independent review jointly with DWP (from David Frost and Dame Carol Black) of the system for managing sickness absence
o repealed the planned extension of the right to request flexible working to parents of 17 year olds
o decided not to bring forward the dual discrimination provision in the Equality Act
o not extended the right to request time to train to companies with fewer than 250 staff.
The labour market discussion paper entitled, 'Flexible, effective, fair: Promoting economic growth through a strong and efficient labour market,' can be found at [http://www.bis.gov.uk/assets/biscore/employment-matters/docs/F/11-1308-flexible-effective-fair-labour-market](http://www.bis.gov.uk/assets/biscore/employment-matters/docs/F/11-1308-flexible-effective-fair-labour-market)

BIS's online newsroom contains the latest press notices, speeches, as well as video and images for download. It also features an up to date list of BIS press office contacts. See [http://www.bis.gov.uk/newsroom](http://www.bis.gov.uk/newsroom) for more information.
Notes to Editors
Contact Information
Name BIS Press Office Job Title
Division COI Phone
Fax
Mobile
Email NDS.BIS@coi.gsi.gov.uk
Name Henry Tanner Job Title
Division Department for Business, Innovation and Skills Phone 020 7215 5947 Fax
Mobile
Published 3 October 2011