Ministers take steps to strengthen the Commonwealth
Commonwealth Foreign Ministers agree recommendations for modernising the Commonwealth.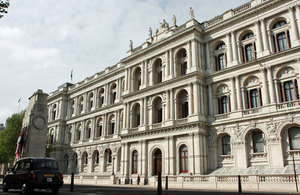 Commonwealth Foreign Ministers Meeting: Ministerial Statement
The Foreign Secretary, the Rt. Hon. William Hague, and the Minister of State for the Commonwealth, the Rt. Hon. Hugo Swire, represented the UK at the Commonwealth Foreign Affairs Ministers meeting in New York today.
The meeting concluded discussion of the Eminent Persons Group's recommendations to strengthen the Commonwealth. These discussions began at the Commonwealth Heads of Government Meeting in Perth, Australia, in October 2011, and represent the most ambitious attempt to modernise the organisation for more than a decade.
The UK strongly backed the Eminent Persons Group, which included former Foreign Secretary, the Rt Hon. Sir Malcolm Rifkind MP. This process increases the Commonwealth's global impact, and aims to maximise benefits for all its member states, focusing on core Commonwealth strengths: strong democratic values, development expertise, advocacy and convening powers.
Today, Foreign Ministers:
agreed the Commonwealth Charter, setting out the core values and aspirations of the Commonwealth and its members. This will now pass to Heads of Government to endorse; and
agreed the final decisions on the outstanding Eminent Persons Group's recommendations for Commonwealth reform, agreeing to important proposals on election observation, human rights, and strengthening the Commonwealth Ministerial Action Group and the Commonwealth Secretariat.
Mr Swire commented:
"I was honoured to take on responsibility for the UK's relations with the Commonwealth at an important moment in the organisation's history. The Prime Minister has made clear the importance the UK attaches to our relationship with the Commonwealth and our fellow member states. I am delighted by the bold decisions made today to strengthen the institution.
"Agreement to the new Commonwealth Charter is a key success. It signals an organisation that is confident, sure of its values, and committed to upholding them. This is particularly significant at a time when human rights and democratic values are demanded more vocally by citizens across the globe.
"This Charter will also be a wonderful tribute to the Head of the Commonwealth, her Majesty the Queen, in her Diamond Jubilee year. It demonstrates that the organisation she has been so committed to is evolving to be stronger than ever.
"The Eminent Persons Group challenged us to look critically at all corners of Commonwealth activity, and to hone in only on where the Commonwealth's specific 'added value' lies. I am encouraged that we have now reached decisions on all of their recommendations.
"It is now vital that we maintain momentum as we move into the next implementation stage. I look forward to working with the Commonwealth's member states, networks and organisations to make this vision a reality, and with the Commonwealth Secretary-General to embed today's decisions into the Secretariat's new Strategic Plan."
Published 29 September 2012