Ministers set out rules for high charging universities
Mr Willetts has released an early draft of a guidance letter to the Director of Fair Access, saying that universities must commit to the new…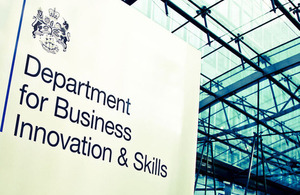 Mr Willetts has released an early draft of a guidance letter to the Director of Fair Access, saying that universities must commit to the new national scholarship programme and invest in helping those from disadvantaged backgrounds who have the potential and desire to go to university.
Universities Minister David Willetts said:
"Going to university is a life changing experience and one of the greatest drivers of social mobility. That's why I'm absolutely committed to making sure that anyone who wants to go to university should be able to go, no matter what their family background is.
"I'm emphasising to our universities that if they want to charge over £6000 a year to our undergraduates, then I am looking to them to do everything they can to make sure they are attracting our brightest and best students.
"Only by Government and universities working together to make sure that we're fostering the very best talent will we continue to have a world class and competitive university sector."
The draft letter stresses the importance of universities considering how they attract and support students from under-represented groups to progress to Higher Education through their outreach and other activities.
---
Notes to editors
The document released today is an early draft of a letter to the Director of Fair Access. The draft letter is available at: http://www.bis.gov.uk/news/topstories/2010/Dec/new-rules-for-high-charging-universities

Once finalised, the letter will set out the Secretary of State's guidance to the Director in the performance of his duties under Section 32 (3) of the Higher Education Act 2004.

The remit of the Director of Fair Access is to promote and safeguard fair access to higher education. The principal mechanism for achieving this will be requiring institutions that wish to charge more than the basic level of graduate contributions to agree new Access Agreements with the Director of Fair Access, setting out how they will promote access by under-represented groups.

BIS' online newsroom contains the latest press notices, speeches, as well as video and images for download. It also features an up to date list of BIS press office contacts. See http://www.bis.gov.uk/newsroom for more information.
Notes to Editors
Contact Information
Name BIS Press Office Job Title
Division COI Phone
Fax
Mobile
Email NDS.BIS@coi.gsi.gov.uk
Name Nick Evans Job Title
Division Department for Business, Innovation and Skills Phone 020 7215 3496 Fax
Mobile
Published 7 December 2010