News story
Ministers in Brighton to see fight against unemployment in action
Mr Hayes and Mr Grayling's departments, the Department for Business, Innovation and Skills and the Department for Work and Pensions respectively…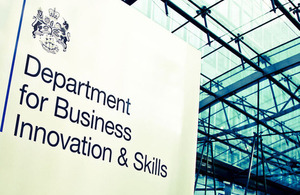 Mr Hayes and Mr Grayling's departments, the Department for Business, Innovation and Skills and the Department for Work and Pensions respectively, are working closely together to empower local bodies, like the Jobcentre Plus and Further Education colleges, and free them from bureaucracy.
This afternoon they met staff from Brighton Jobcentre Plus and staff and learners from City College Brighton and Hove to hear about what they have achieved to date and how things are working on the ground.
The Ministers also held a roundtable discussion with local representatives from employers, the Probation Service, learning providers, Next Sep careers advice, Local Enterprise Partnerships, Jobcentre Plus and Brighton and Hove City Council.
This is a key part of the Government's commitment to promote economic growth by supporting employers with the skills they need, and helping people to find work and get on in life.
John Hayes, Minister for Further Education, Skills & Lifelong Learning, said: "Forming strong working partnerships at a local level between Jobcentre Plus, employers and training providers will be critical to getting people the training and support to get the skills they need to get jobs and for employers to benefit too.
"It is extremely encouraging to hear about some of the work going on in Brighton. I want to see more of this both here in Brighton and right across the country.
My Department and the Department for Work and Pensions are working closely together to make this as easy as possible."
Chris Grayling, Minister for Employment, said: "We are determined to make sure people receive the opportunities, support, training and encouragement to get back into employment and we will be working with employers, training providers, local authorities and the third sector to achieve this.
"Our Work Programme will offer tailored support to the long-term unemployed from this summer delivered by private and voluntary sector providers and more personalised support will be available through Jobcentre Plus."
"People will receive support but they will have to do their bit. When they are offered a training course to boost their employability they will be expected to attend."
Phil Frier, Principal of City College Brighton and Hove, said:
"In Brighton, City College is working closely and very effectively with Job Centre Plus in getting people back into work. The key has been a coherent and close relationship between the two organisations to ensure that we have a 'joined up approach'.
"We offer a programme which motivates the trainees and gives them real skills, which are valued by employers. We think it's the College's job not only to give them the skills they need, but to also support them back into regular work. "
---
Notes to editors:
The roundtable discussion at the Jobcentre Plus in Brighton was held to highlight effective joint working between the Jobcentre Plus and skills organisations in the local area and debate how to further improve the progression from unemployment to skills and employment. Attendees were: Minister for Further Education, Skills & Lifelong Learning John Hayes, Minister for Employment Chris Grayling; Chair of Local Enterprise Partnership (LEP) Coast to Capital John Peel; Principal of Eastleigh College (representing the regional Association of Colleges) Tony Lau-Walker; Amanda Radley from the Surrey and Sussex Probation Trust; Brighton & Hove City Council Strategic Director of Place Geoff Raw; Brighton & Hove Albion Football Club Director of Education Alan Sanders; American Express UK Recruitment Consultant Jessica Summerfield; Skills Funding Agency (SFA) South-East Employer Services Director Tony Allen; Sue Ormiston from the SFA South-East; Director of HIT Training Sara Goldie, representing the Association of Learning Providers; Debbie Francis for Adult Careers Service Next Step and Umi Brighton Operations Manager Emma Blakiston.

BIS' online newsroom contains the latest press notices, speeches, as well as videos and images for download. It also features an up to date list of BIS press office contacts. See http://www.bis.gov.uk/newsroom for more information.

For enquiries relating to DWP or jobcentre Plus contact DWP press office on 0203 267 5125 (Out of hours: 07659 108 883) or visit www.dwp.gov.uk/newsroom.
Notes to Editors
Contact Information
Name BIS Press Office Job Title
Division COI Phone
Fax
Mobile
Email NDS.BIS@coi.gsi.gov.uk
Name Katie Kilgallen Job Title
Division Department for Business, Innovation & Skills Phone 020 7215 1861 Fax
Mobile
Published 25 January 2011