News story
Ministers backing UK manufacturing from idea to lab to market
Today's announcement is a key part of the Government's Growth Review, targeting the expansion of Britain's manufacturing sector and positioning…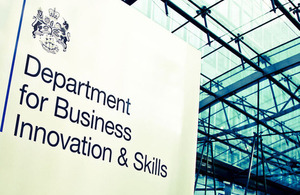 Today's announcement is a key part of the Government's Growth Review, targeting the expansion of Britain's manufacturing sector and positioning the UK as Europe's leading exporter of high value goods.
The High Value Manufacturing TIC will be formed from a group of research and technology facilities from across the country, with Rotherham, which the Deputy Prime Minister and Secretary of State for Business visited today, one of the seven centres of excellence. It will provide an integrated capability and embrace all forms of manufacture using metals and composites, in addition to process manufacturing technologies and bio-processing. It will draw on excellent university research to accelerate the commercialisation of new and emerging manufacturing technologies.
This is the first of an elite network of Technology and Innovation Centres that will be established by the Technology Strategy Board with over £200m of Government investment overall. Other centres will be founded and announced in due course, each in technology areas of high growth potential.
The Deputy Prime Minister said:
"The announcement of the first Technology and Innovation Centre is a major early milestone in our ambition to rebalance the economy. It will bring significant benefits to Rotherham, Teesside, Glasgow, Coventry, Warwick and Bristol, and to the country as a whole. I believe that the UK should be at the forefront of science, engineering and manufacturing, and the £200m we have committed to centres like this over the next four years is a symbol of the Government's commitment to supporting this.
"I am confident that the High Value Manufacturing Technology and Innovation Centre will blaze a trail for British industry, showing how our country's hard work, invention and expertise can be exploited to lead us through the economic recovery into a prosperous future."
Business Secretary Vince Cable said:
"Manufacturing is vital to the country's economic stability and our potential to achieve growth. It generates £140 billion a year, accounting for 55 per cent of total UK exports - but it has considerably greater potential. That's why I am throwing my weight behind this package - to help Britain reach its potential.
"The Technology Innovation Centre will help to equip UK industry with the ability to capitalise on the future global market opportunities by drawing on leading edge research and will form a key part of the Government's work to rebalance the UK economy and create new high-value private sector jobs."
"The investment in the new centre will further bridge the gap between universities and businesses, helping to commercialise the outputs of Britain's world-class research base."
The Government also announced additional support for manufacturing today.
An extra £7million so that the Manufacturing Advisory Service can specifically focus on supply chain development. This is in addition to the £50m, already announced for the delivery of MAS over the next three years. The reformed MAS will be available from 1 January 2012, three months earlier than originally planned. The new service builds on the current expert support and will aid manufacturing growth by enabling increased productivity and innovation.

Nine new university-based Centres for Innovative Manufacturing are to be established with Government funding of £45 million through the Engineering and Physical Sciences Research Council (EPSRC). These new centres will combine inventive research and business acumen to develop the sorts of innovative ideas taken forward to commercialisation through Technology and Innovation Centres.

New Fellowships offering up to 5 years of support for researchers who have the potential to be future manufacturing research leaders in their field. The Fellowships will support academics who have recently moved from industry, or people in industry, involved in innovation, looking to move into academia.
Notes to editors:
---
The partners in the High Value Manufacturing Technology Innovation Centre are the Advanced Manufacturing Research Centre (Rotherham), Nuclear Advanced Manufacturing Research Centre (Rotherham), Manufacturing Technology Centre (Coventry), Advanced Forming Research Centre (University of Strathclyde), National Composite Centre (University of Bristol), Centre for Process Innovation (Wilton & Sedgefield) and the WMG (University of Warwick).
The Centre will be funded from a £200 million pool announced last year for a national network of six to eight Technology Innovation Centres.
The Technology Strategy Board was given responsibility for establishing and overseeing the network of centres and was asked to 'fast-track' a centre for High Value Manufacturing. Over 140 organisations registered their interest and from these a small number of highly credible parties were asked to submit proposals. The expert panel that selected the preferred bidder for the High Value Manufacturing centre was chaired by Andrew Reynolds-Smith of GKN, Chair of the CBI's Manufacturing Council. For further information please phone Nick Sheppard, TSB Press Office, phone (07824) 599 644.
Further announcements about technology and innovation centres are likely to be made in the coming weeks, with plans for the remaining centres announced progressively later in the year.
Universities and Science Minister David Willetts has also today announced details of nine Centres for Innovative Manufacturing with funding of £45m from the Engineering and Physical Sciences Research Council (EPSRC).
Manufacturing Advisory Service (MAS) is currently delivered in England by the Regional Development Agencies (RDAs). Similar programmes to assist manufacturing are operated in Scotland and Wales. Minister's announced in October 2011 that MAS would continue to be delivered following the closure of the RDAs from March 2012. The reformed service will now be introduced from 1 January 2012. To ensure consistency of coverage across England MAS will provided through a single national contract but will continue to be delivered at a local level to meet the needs of individual companies and the local economic environment. The national provider of the service will be identified through a procurement exercise following the OJEU process. The £7 million identified for supply chain support will focus on key supply chain opportunities including areas such as low carbon vehicles, nuclear and off-shore wind sectors.For further detail about the Centres for Innovative Manufacturing and Fellowships in Manufacturing please phone David Reid, EPSRC Press Office, (07776) 160 028.
BIS' online newsroom contains the latest press notices, speeches, as well as video and images for download. It also features an up to date list of BIS press office contacts. See http://www.bis.gov.uk/newsroom for more information.
Notes to Editors
Contact Information
Name BIS Press Office Job Title
Division COI Phone
Fax
Mobile
Email NDS.BIS@coi.gsi.gov.uk
Name Michael Gibbs Job Title
Division Department for Business, Innovation and Skills Phone 020 7215 1635 Fax
Mobile
Published 17 March 2011