Minister Welcomes Boeing's decision to sign up to the MOD's New Industrial Engagement Policy
International aerospace and defence contractor The Boeing Company, which is a major supplier to MOD, has become the first to sign up to a new policy encouraging overseas-based companies to make a firm commitment to continue business activities in the UK for the long term.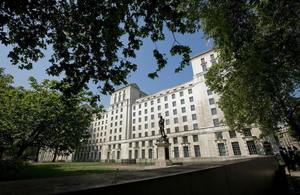 Following the publication of a MOD White Paper 'National Security Through Technology', overseas-based suppliers have been encouraged to invest in the UK's defence and security sector through the launch of a new Defence and Security Industrial Engagement Policy (DSIEP).
The DSIEP was launched by Peter Luff, the Minister for Defence Equipment, Support and Technology, following the publication of the UK Government's White Paper 'National Security Through Technology' earlier this year. It is hoped that other companies will follow Boeing's lead.
Mr Luff said:
The Ministry of Defence is delighted that Boeing will continue to invest in the UK's defence and security sectors and provide supply chain opportunities for UK companies, particularly SMEs.

Boeing's commitment demonstrates the competitiveness of UK industry and we look forward to continuing and extending our relationship with this world class company.

I also hope that other overseas based suppliers will follow Boeing's lead and sign up to our new policy in due course.
The company supplies the MOD with the very capable, C-17 strategic transport aircraft, Apache and Chinook helicopters.
The Managing Director of Boeing Defence UK, Mike Kurth, said:
Boeing is honoured to support the UK armed forces with great platforms like Chinook, C-17 and Apache.

The previous Industrial Participation opportunity associated with the supply of these platforms was a significant factor in our commitment to increase our UK defence footprint that now employees more than 800 people.

This brings significant defence capability onshore for helicopter maintenance and modification, logistics transformation, training and advanced modelling and simulation to mention just four.

This is only part of the story, our focus on the UK supply chain means Boeing also spends around $1bn each year with 250 suppliers that have become an invaluable part of the Boeing supply chain.

The new policy provides the stimulus for longer term engagement and we are delighted to be the first Company to sign up.
Published 25 July 2012