Home Office minister James Brokenshire has shown his support to the town devastated by the actions of Raoul Moat.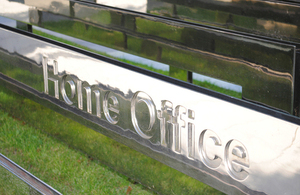 The minister today paid tribute to hero policeman PC David Rathband after visiting him in hospital.
The Northumbria Police traffic officer was left blind after Raoul Moat shot him in the face at point blank range.
But PC Rathband told crime prevention minister James Brokenshire he was determined to return to the force despite the horrific injuries he suffered.
Mr Brokenshire met PC Rathband on a visit to the North East which included a trip to Rothbury, where Moat shot himself dead. The minister also spoke to Northumbria Chief Constable Sue Sim, as well as local police officers and community leaders.
'Raoul Moat had a devastating impact on his victims, on Northumbria Police, and on the people of Rothbury,' said Mr Brokenshire.
'I wanted to show the government's appreciation to the people and police of the North East for the magnificent way they responded.
'I want to make particular mention of PC David Rathband. His courage in dealing with the devastating injuries he suffered is absolutely exceptional. He is truly an inspirational man.'
Published 19 July 2010