News story
Minister visits HMP Wandsworth to annouce review of offender learning
During a visit to HMP Wandsworth to tour its groundbreaking education centre, he emphasised the Government's commitment to reducing reoffending…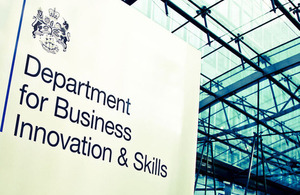 During a visit to HMP Wandsworth to tour its groundbreaking education centre, he emphasised the Government's commitment to reducing reoffending through positive interventions with offenders, prisons and the wider public.
The Government's review will complement the autumn consultation announced last month by Justice Secretary Kenneth Clarke, into reforming the justice system.
John Hayes said:
"In this country crime costs us around £60bn a year: a truly staggering figure. And we know that over £9bn of that is the result of reoffending.
"This is clearly wrong and we need to focus on protecting the public from the costs and effects of crime. With effective and relevant courses, ex-offenders will be better able to find work and so be less of a concern to the wider community and more of an asset to the economy.
"But we must also have value for money. The review I am undertaking will look at current courses and where they can be better tailored to social needs. Effective education is, and always will be, key to reform of the justice system."
Louise Casey, Commissioner for Victims and Witnesses said:
"The last thing victims of crime want is for that crime to happen to anyone else. That's why victims are welcoming of rehabilitation, in addition to punishment for offenders. I would welcome any measures that make rehabilitation more effective."
Responding to Louise Casey, John Hayes said: "Victims deserve better than people who leave prison going straight back to crime. Louise Casey is right, punishment and rehabilitation must be the dual purposes of criminal justice. The review I have ordered will look at what we spend, how we spend it and the effect of recidivism."
Prisons Minister Crispin Blunt MP said:
"I welcome this review into offender learning. Prisons are places of punishment but they should also be places of education, work and training.
"Education leading to employment has a key role in helping to reduce re-offending, protecting the public and preventing people from becoming the victims of tomorrow."
Finding a job is essential to breaking the cycle of crime that exists within families, providing positive role models to younger generations.
Yet half of men in prison and up to 70% of women have no qualifications at all, with two thirds of prisoners having literacy levels below that currently expected of 11 year olds.
By reviewing current provision, the Government is looking at how to make the system more effective and how the courses on offer can better reflect the current skills gaps.
The review will involve all those within government who are involved in offender learning, as well as charity and voluntary organisations. It will report back in the autumn as part of wider plans for reform and cost-saving across the sector.
Notes to Editors:
HMP Wandsworth is a category B, local prison serving the London courts, holding adult male offenders. It is the largest prison in the UK and one of the largest in Western Europe, currently able to hold 1,665 prisoners.
The prison was built in 1851, and the residential areas remain in the original buildings. Since 1989, there has been extensive refurbishment and modernisation of the wings. The prison was inspected by Ofsted and Her Majesties Inspectorate of Prisons in June 2009 and graded as 2, Good, overall.
---
Kensington and Chelsea College delivers learning and skills in all the prisons in London.**

The Government review of offender learning will range widely over the delivery of learning to offenders, in custody and in the community, in England.
It will be used to inform the Ministry of Justice's Green Paper on effective rehabilitation, which is to be launched in the autumn.
BIS' online newsroom contains the latest press notices, speeches, as well as video and images for download. It also features an up to date list of BIS press office contacts. See http://www.bis.gov.uk/newsroom for more information.
Notes to Editors
Contact Information
Name BIS Press Office Job Title
Division COI Phone
Fax
Mobile
Email NDS.BIS@coi.gsi.gov.uk
Published 20 July 2010