Minister visits Albanian probation service
Justice Minister Lord McNally is in Albania to formally launch an EU-funded twinning project between the countries' probation services.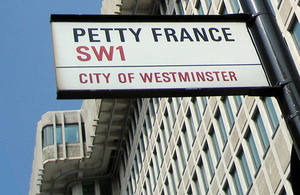 During the visit Lord McNally will emphasise the UK's support for Albania's ambitions to join the EU, but will stress that a strong, independent judicial system and respect for the rule of law are needed before this can happen.
Lord McNally said:
'The UK and Albania have already forged strong ties, which have helped to ensure justice can be served on those who commit crimes against both our peoples and in both our countries.
'The government is keen to see Albania fulfil its ambition to join the EU in the long term. We believe our continued co-operation to strengthen the rule of law in the country will help Albania move towards candidate status.
'To this end, we have launched a new twinning project in which UK experts will work with the Albanian probation service to help deliver a range of alternatives to detention, giving Albanian offenders a chance for real rehabilitation.'
The Albanian probation service was set up in 2009 and now supervises nearly 2,500 offenders. Its staff have received basic probation training, and comprehensive regulations have been written.
The EU-funded twinning project will build on these foundations by increasing the capacity of the probation service to deliver alternatives to detention, where this is appropriate.
It will run for two years and aims to support the Service in devising and implementing a set of minimum probation standards.
As well as launching the twinning project, Lord McNally will visit the closing ceremony for a High Court mentoring project, funded by the British Embassy in Tirana and run by the Slynn Foundation.
Published 24 March 2011