Press release
Minister views multi-billion pound plans for the north-west
Major upgrades to rail links in the north west are progressing well.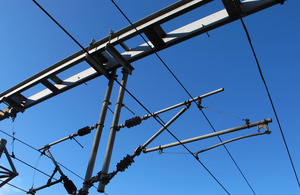 A major upgrade to rail links which will bring over £4 billion of economic benefits to the north-west is progressing well, said Transport Minister Simon Burns.
The minister visited Manchester and Liverpool today (15 November 2012) to see for himself work on the Northern Hub and plans for the electrification of rail lines – both projects could bring up to 30,000 jobs to the region.
The Northern Hub will see a new rail link being built (the Ordsall Chord), stations extended and journey times improved while the electrification programme will enable faster, more reliable and greener trains to operate.
Simon Burns said:
Transport provides the crucial links that allow individuals and communities to prosper and that is why this investment is so important.

Commuters and businesses in the region will be big winners thanks to quicker and greener trains and more services across Manchester. But these improvements will also benefit the UK as a whole due the crucial role the north-west plays in the country's transport system.

This investment demonstrates that the government is delivering on its commitment not only to improve the transport system but also to use it as an engine to drive economic growth.
During his visit the minister toured Manchester Airport and Manchester Airport railway station where he viewed plans for a 4th railway platform.
The new platform will increase capacity by enabling the station to accommodate longer and more trains. He also visited Piccadilly station which will have extra platforms as part of the Northern Hub project and toured Tuebrook Sidings, in Liverpool, which is 1 of 13 compounds which will be used to store materials during the 2nd phase of the north-west electrification scheme.
Notes to editors
The Northern Hub is a series of proposed projects to boost economic growth through better train services across northern England.
The individual projects were identified in a study published by Network Rail in February 2010.
In July 2012 the government announced it was backing the full scheme. The full package of enhancements is set to be in place by 2019.
The government's electrification programme will also see rail lines on the Great Western Main Line electrified all the way to the South Wales Valleys. The Midland Main Line between Bedford and Sheffield will also be electrified.
A study by Network Rail estimates the investment will bring over £4 billion of wider economic benefits to the north-west resulting in 30,000 new jobs.
Press enquiries: 020 7944 3108
Out of hours: 020 7944 4292
Public enquiries: 0300 330 3000
Published 15 November 2012