Press release
Minister updates Parliament on Single Payment Scheme progress
Agriculture Minister Jim Paice today made a statement on the Single Payment Scheme to Parliament.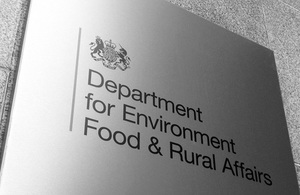 Agriculture Minister Jim Paice today made a statement on the Single Payment Scheme to Parliament:
"In my statement of 4 March, I updated the House on the Rural Payments Agency's (RPA), progress in both addressing its daunting legacy of errors in relation to the Single Payment Scheme (SPS) and ensuring that accurate payments under the SPS 2010 reached farmers as soon as possible. In that statement I explained I was considering additional measures to speed the flow of SPS 2010 payments and, following discussions in the RPA Oversight Board, I can now report on the decisions that have been reached.
"Since 4 March, RPA has continued to make SPS 2010 payments as claims are validated and to undertake further work to identify those that are ineligible and not, therefore, due a payment for this year. As a result, the Agency calculates that there are now in the region of 6,300 eligible claims remaining to be paid, with a combined value of around £215 million.
"The frustrations felt by these farmers have been made very clear to me, both directly and through farmers' representative bodies. They want both the remaining sums paid as soon as possible and a line to be drawn under the legacy issues so uncertainty over past years is removed and greater confidence is provided that subsequent scheme year payments will not be affected. The Oversight Board shares these aims and has been looking very closely how the former can be achieved without significantly impacting on the latter.
"Against that background, the Oversight Board has now approved two decisions which between them should ensure that less than one per cent of the monetary value of SPS 2010 payments remains outstanding at the end of the regulatory payment window which closes on 30 of June. This would be in line with, or would better, performance in previous years and would ensure the EU requirement to make 95.238 per cent of payments by 30 June is met thus avoiding late payment penalties.
"The first decision is that, after rigorous testing on a sample to ensure accuracy of the process, fully validated manual payments will be made to approximately 2,000 farmers under the 2010 scheme who would otherwise not be paid until after the payment window. These payments will be made over the next two months and take account of known entitlement corrections that have yet to be fully processed on the Agency's systems. Should there be any additional changes identified once payment has been made, the farmers concerned will be informed.
"The second decision relates to those remaining SPS 2010 payments where there are outstanding queries on earlier scheme years. Where the SPS 2010 claim has been fully validated, payment for that scheme year will now be made. Should any changes be identified for earlier scheme year payments in due course, the farmers concerned will be informed. RPA plan to complete the work required before the opening of the SPS 2011 payment window on 1 of December.
"The net result of these decisions is that the flow of remaining SPS 2010 payments will now increase. The Oversight Board did additionally consider requests from various sectors of the industry to make partial payments. However, RPA's analysis suggests that this would not significantly increase the speed at which remaining claims are paid to farmers, but would add disproportionately to the backlog of corrective work required and introduce additional risks of EU fines. Consequently, it was agreed that the Agency should not make partial payments.
"In order that all farmers with payments outstanding at the end of March understand how these decisions might affect them, RPA will be writing to each of those concerned next week to explain what issues remain on their claims and the likely month of payment.
"Alongside this work, RPA will continue to review the remaining backlog of potential error cases that need to be reviewed. Corrective work undertaken to date, combined with earlier decisions by the Oversight Board on ensuring entitlements were regularised wherever legally possible, has made a real impact to date. The Board will be monitoring these efforts closely to ensure a line is finally drawn under all the legacy data issues over the coming year."
In recognition of the difficulty that farmers affected may face, Jim Paice has written to the directors of the main banks, asking them to alert their staff to the situation and asking them to be understanding in meeting reasonable requests by farmers for assistance and urging them to share his aim that no otherwise viable farming business fails because of cash flow issues related to the timing of SPS payments.
Published 31 March 2011