Minister unveils bailiff reform
New standards defining acceptable behaviour for bailiffs across the country were today unveiled by Justice Minister Jonathan Djanogly.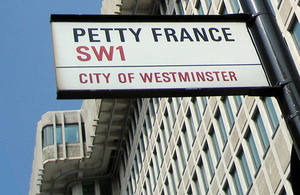 The reforms will protect people from rogue bailiffs who use unsafe or unfair methods, while at the same time making sure businesses and authorities can still collect debts fairly.
Mr Djanogly said:
'Bailiffs are an important part of the justice system so the few unscrupulous bailiffs must be stopped from putting people in harm's way or taking advantage of the vulnerable.
'Whilst I know the majority of bailiffs are responsible, too many are not. We often hear stories, and see evidence, of people being mistreated by heavy-handed bailiffs. We are working with the bailiff industry, and other groups, to make sure that cannot happen anymore, but also that people can still collect their debts fairly.
'What we have announced today is the first step towards tackling this issue, which will be followed shortly by proposals for a new regulatory regime.'
The updated National Standards tackle intimidating and threatening behaviour, prevent bailiffs from misrepresenting their powers, and reinforce rules about how firms should resolve complaints about rogue agents.
Councils and other authorities will adopt the standards that will be used to set rules for any bailiffs working for them.
The full proposals will be consulted on in Spring, with a view to them becoming law as soon as possible.
Alongside the revised National Standards the information available on DirectGov has been updated to provide guidance on bailiffs for debtors and creditors. This guidance also provides information on where people can go for help if they feel they have been a victim of unacceptable behaviours by bailiff.
Read the full press notice.
Published 13 January 2012