World news story
Minister Swire visits Malaysia, reinforces commitment to bilateral ties
Mr Swire's visit to Kuala Lumpur will include the launch of both the UK-Malaysia Alumni Initiative and the signing of Hamleys in Malaysia.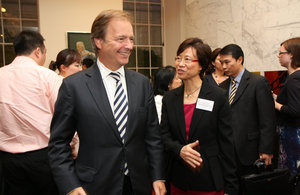 Foreign Office Minister Hugo Swire will visit Malaysia this week to reinforce the strong and enduring friendship between both countries. Speaking ahead of his visit, Mr Swire said:
I am delighted to be visiting Malaysia, a country with which the UK has strong links, particularly in education and trade. Our relationship has never been better. The last two years have seen as many UK ministers visiting the country as in the last two decades, and we have increased our representation in the High Commission, which will soon be operating from a state-of-the-art building in Kuala Lumpur.
The Minister, whose portfolio includes South East Asia, is here as part of a tour in the region, which includes visits to Hong Kong and Singapore.
Mr Swire's visit comes just before Prime Minister Najib Razak's call to London to witness the groundbreaking ceremony of the Battersea Power Station in July, and World Islamic Economic Forum in London this October – the first time this Malaysian-inspired event is held in a non-Islamic country. The UK is the centre of Islamic Finance in Europe and the establishment of a ministerial-level Islamic Finance Task Force underscores the UK's commitment to the expansion of this industry.
During his one-day visit, the Minister will call upon Malaysia's newly sworn-in ministers and meet with the British and Malaysian business community including Tan Sri Liew Kee Sin of SP Setia, which is leading the redevelopment of the Battersea Power Station project in the UK. Mr Swire will also launch Hamleys Malaysia, the first Hamleys store outside of Europe, the Middle East and India.
On education, the Minister will launch an initiative aimed at strengthening the British High Commission Kuala Lumpur's strategic engagement with Malaysian UK Alumni whilst creating and enhancing mutual commercial, diplomatic and cultural opportunities for both countries. The event will be attended by Youth and Sports Minister, Khairy Jamaluddin.
The UK is a leading investor in Malaysia, with companies and brands present in various industries, including retail, financial and legal services, education, healthcare, manufacturing and oil and gas. Total UK-Malaysia trade was £4.38bn in 2011, 8% up on 2010. UK exports for 2011 was 2.25bn, 14% up on 2010.
In 2012, UK goods exports to Malaysia improved further to £1.48 bn. Malaysia is one of the top 10 goods export destinations for the UK in Asia and also its 3rd largest goods export market in Southeast Asia.
Mr Swire joins a list of British Ministers and dignitaries who have visited Malaysia over the last year, including Their Royal Highnesses The Duke and Duchess of Cambridge, Prime Minister David Cameron, Lord Stephen Green and Baroness Sayeeda Warsi.
Further information
Follow Foreign Office Minister Hugo Swire on twitter @HugoSwire
Follow the British High Commission on facebook and twitter
Minister Hugo Swire will be in Hong Kong on 24-25 June, in Malaysia on 26 June followed by Singapore on 27 June.
Published 24 June 2013