World news story
Minister Swire optimistic about UK-Costa Rica trade relations
Minister of State Hugo Swire talks trade on one-day visit to Costa Rica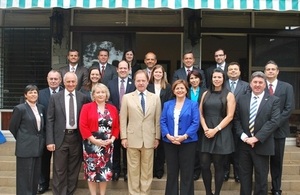 Minister of State of the United Kingdom, Hugo Swire, began his round of calls in the Costa Rican capital on 23 June with a breakfast meeting attended by representatives of British companies in the country, among them, Motores Británicos, Glaxo Smith Kline, British Telecom and the British Chamber of Commerce (BritCham).
The early-morning meeting offered the business representatives an opportunity to share their views on the domestic market with the Minister, and to hold a frank discussion regarding challenges to increased expansion of their companies in Costa Rica.
The Minister acknowledged the difficulties raised by members of the group, and he remained optimistic about the future of UK – Costa Rica trade relations, recognising the enormous potential for development in this area, given Costa Rica's steady economic growth of 4.5% in recent years, and a predicted growth rate of 4% for 2014. He was particularly encouraged by the fact that trade statistics for the year 2013 showed that exports from Costa Rica to the UK stood at US$230 million, while exports from the UK to Costa Rica had totaled US$96.1 million in the same year.
The Minister also underscored the United Kingdom's interest in working with the Costa Rican government to explore and promote trade and investment opportunities, but maintained that transparency, rule of law and predictability were crucial to attracting more foreign investment.
Minister Swire held talks later in the day with the Costa Rican Vice President and Minister of Finance, Helio Fallas; Minister of Foreign Affairs, Manuel Gonzalez Sanz; Minister of Foreign Trade, Alexander Mora Delgado; and the Minister of Transport and Public Works, Carlos Segnini.
The British government remains committed to boosting existing trade links with the United Kingdom, particularly in areas that are of mutual interest to the countries, such as low carbon growth, renewable energies, science and education.
Published 25 June 2014