News story
Minister sets out a mutual future for the Post Office
The proposals are in a Government consultation, 'Building a Mutual Post Office,' published today setting out options to move the Post Office…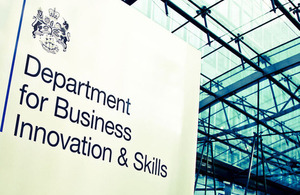 The proposals are in a Government consultation, 'Building a Mutual Post Office,' published today setting out options to move the Post Office from Government ownership to a mutual model.
Postal Affairs Minister Edward Davey said:
"The Post Office sits at the heart of our communities and I am determined to make sure that it becomes a successful and profitable business.
"With this in mind we want to explore how those with an interest in the Post Office could be given a real say in how it is run.
"The consultation, Building a Mutual Post Office, published today, sets out the different options for how we might enable subpostmasters, employees, post office customers and local communities, to have a real stake in the future of the Post Office."
"Combined with our major investment programme and Post Office's ambition to become the 'Front Office for Government', a mutualised Post Office could help link a new commercial focus with an even stronger community purpose.
"That's why I really want everyone with an opinion on the future of the Post Office network to tell us what they think of our proposals."
The consultation builds on a detailed and independent report for Government led by Co-operatives UK. Published in May this year, their report was positively received by Post Office's stakeholders.
The Government believes that Post Office Ltd could be ideally suited to a mutual model, with those that know it best working together, giving them a greater say in how the business is run, as well as a stake in its success.
Changing Post Office Ltd - the national company which sets the strategy for the post office network and operates some of the larger branches - to a mutual would not affect the ownership of the thousands of privately-owned post office branches up and down the country.
A move to a mutual would not of course be possible until the business is on a more financially sustainable footing. The Government has committed to provide £1.34 billion of funding to the post office network over the spending review period to modernise the network and safeguard its future.
Government believes that the Post Office could be on a clear path to mutualisation by the end of this Parliament.
Notes to editors:
---
The consultation document can be found here: http://discuss.bis.gov.uk/pomutualisation/

The consultation document sets out the following key issues:
The current structure of Post Office Ltd and its business strategy.
Why Government thinks mutualisation could be a good idea for Post Office Ltd.
Our belief that the members of the mutual should comprise an equal mix of 'producers' (such as employees and subpostmasters) and 'consumers', with no one constituency having an overall majority.
Why we believe that a Post Office mutual could work best without a Government ownership stake, to provide a clear cultural break from the past, with Government able to continue to maintain its relationship with the mutual on a contractual basis.
Our proposal that a possible structure for a Post Office mutual could be a three tier structure, comprising of the membership, a representative body, and Board of Directors.
Other considerations which we need to take into account before a move to a mutual would be possible, the most important of which is Post Office Ltd's financial stability.
The Postal Services Act 2011 allows for (but does not require) the mutualisation of Post Office Ltd. Three conditions set out in section 7 of the Act must be met by a 'relevant mutual' in order for the Post Office to be transferred:
Condition A (section 7(2)) is that the main purpose for which the body exists is to act for the public benefit, and to do so by promoting the public use of Post Office services.
Condition B (section 7(3)) is that the members of the body are a) people who have an interest in the public use of Post Office services (including employees and subpostmasters); or b) people who act on behalf of, or represent, those people.
Condition C (section 7 (4)) is that the body makes arrangements to prevent disposals of property or rights by Post Office Ltd if they would be inconsistent with the purpose for which the body exists.
The Act also ensures (in section 4 (5)) that no disposal of a mutual's interest in Post Office Ltd may be made other than to another relevant mutual, the Secretary of State or a company wholly owned by the Crown.
The Act also ensures (in section 5 (2)) that before any disposal to a mutual is made, a report must be laid before Parliament containing details of the proposed transfer. Parliament will then need to approve the report and the disposal.
Current ownership model:**
Post Office Ltd is 100 percent owned by the Government, through the Royal Mail group of companies. Government owns 100% of a top holding company, called Royal Mail Holdings plc. Royal Mail Holdings plc does not trade itself but it owns 100% of Royal Mail Group Ltd. Royal Mail Group Ltd is the national letter delivery business we are all familiar with, which is responsible for ensuring the provision of a universal postal service across the UK.
Around 370 Post Office branches are directly managed by the central holding company Post Office Ltd. These are called Crown Offices.
The remaining branches across the 11,500 branch network are managed on an agency basis either by subpostmasters or franchise partners. Franchise partners include Tesco, SPAR and Londis.
Although a nominated person the "subpostmaster" makes the application and provides the business plan - branches have a variety of different ownership structures.
Individual retail entrepreneurs run the greatest number of branches - however, it is estimated that around 1000 individual Post Offices are run by either a mutual body or a member of a mutual body.
This includes approximately 525 Post Offices in Co-op branches, approximately 200 in Costcutter stores, 240 in NISA stores and 150 in community run shops.
Subpostmasters are not Post Office Limited employees, but instead have a contract with Post Office Limited to provide services using their own premises and staff. Generally, subpostmasters receive a fixed payment from POL; this is topped up by a variable payment based on the number of transactions they carry out. Most subpostmasters run their post office business under the same roof as another retail business. In urban areas this is often a newsagent or stationery business. In rural areas it is typically a village shop.
The Co-operatives UK report can be found here: [http://www.uk.coop/press-release/new-report-explores-options-post-office-mutualisation](http://www.uk.coop/press-release/new-report-explores-options-post-office-mutualisation)

Possible future mutual model recommended by Co-operatives UK in their report:
An outline of what the structure suggested by Co-operatives UK would look like is below:
A mutual body - for example a company or co-operative - would be set up and those with an interest in the Post Office could become its members. The Government would then transfer ownership of Post Office Ltd to that body.
Members, via a representative body, could then have a say in appointing the Board of Post Office Ltd, agreeing its long-term strategy and sharing in its profits.
The Government would ensure there are clear safeguards in the constitution of that mutual body, protecting the interests of the Post Office. For example, the mutual would have to act for the public benefit by promoting the use by the public of Post Office services (rather than short-term profit-taking). And it would not be able to sell its shares in Post Office Ltd. These protections would be set down in legislation. Further legislation would also be required for any demutualisation.**
All of the experts on mutual ownership the Government has consulted have stressed that, for a mutual to work, all interested parties need to agree on the structure adopted. The structure must develop organically rather than be imposed by a "command and control" central Government. So Government will hold a full public consultation before agreeing any final structure for the Post Office mutual. **
Co-operatives UK works to promote, develop and unite co-operative enterprises. It has a unique role as a trade association for co-operatives and its campaigns for co-operation, such as Co-operatives Fortnight bring together all those with a passion and interest in co-operative action. For more details see www.uk.coop**

BIS' online newsroom contains the latest press notices, speeches, as well as video and images for download. It also features an up to date list of BIS press office contacts. See [http://www.bis.gov.uk/newsroom](http://www.bis.gov.uk/newsroom) for more information.**

The consultation will close on 12th December 2011. The Government plans to issue its response to the consultation in Spring 2012.**
Notes to Editors
Contact Information
Name BIS Press Office Job Title
Division COI Phone
Fax
Mobile
Email NDS.BIS@coi.gsi.gov.uk
Name Henry Tanner Job Title
Division Department for Business, Innovation and Skills Phone 020 7215 5947 Fax
Mobile
Published 19 September 2011