News story
Minister sees Dounreay decommissioning first hand
Dounreay welcomed Fergus Ewing MSP, Minister for Energy, Enterprise and Tourism to see the world leading decommissioning work taking place at the site.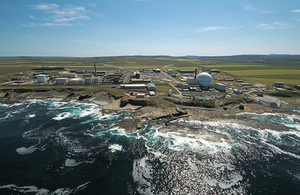 He also met with Andrew Wettern, business development director for Cavendish Nuclear, who was accompanying Hidehiro Segawa of Hitachi-GE Nuclear Energy on his knowledge sharing and fact finding visit to the site.
Mr Ewing was given a tour of the Dounreay site and presentations about the site's innovative decommissioning projects and how DSRL aims to become the benchmark in Europe for the successful clean-up and demolition of Britain's former centre of fast reactor research and development.
He met with Dounreay trade union representatives before leaving for other engagements in the county.
Published 2 February 2014