News story
Minister sees Britain's new busiest station take shape
Over 140 trains per hour will flow through Farringdon as Thameslink, Crossrail and London Underground services meet at the new station.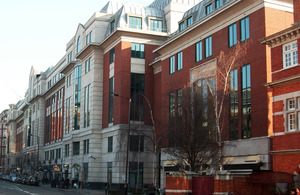 Theresa Villiers today (15 July 2010) helped lay the foundations of London's next major transport hub in a visit to Farringdon station.
From 2017, the plan is for upwards of 140 trains per hour to flow through Farringdon as north/south Thameslink, east/west Crossrail and London Underground services all meet at the new station.
This would see Farringdon surpass Clapham Junction as Britain's busiest train station and bring passengers from outer London closer to the city and Canary Wharf.
Farringdon will be the only station from which passengers will be able to access Crossrail, Thameslink and London Underground trains. It will provide links to Gatwick, Luton, Heathrow and London City airports in addition to St Pancras International rail station.
Transport Minister, Theresa Villiers, said:
This important work at Farringdon will see the station transformed into a 21st century transport hub, fit for the needs of a flourishing London.

With the completion of the Crossrail and Thameslink programmes, passengers can look forward to better, faster journeys from a station set to become the busiest in Britain. Under those plans, the fully redeveloped station will act as an elegant gateway to London, Britain and the continent. Farringdon's patient Thameslink passengers are expected to start to reap the benefits of a much-improved station from as early as Christmas next year.
The ticket hall is being constructed by Network Rail and the minister's visit marks the start of work on the hall's foundations.
Network Rail's Thameslink Programme Director, Jim Crawford, said:
In less than 18 months time passengers at Farringdon will benefit from this new ticket hall, vastly improving access to the station and helping transform it into one of London's most important transport hubs.

London relies on rail to get hundreds of thousands of people to work each day, so I'm pleased to say our work at Farringdon is on time and on budget.
Passengers using the redeveloped Farringdon station will be able to benefit from two new station entrances, a more modern, spacious national rail ticket hall, improved London Underground access and longer platforms that will be able to take 12-carriage Thameslink trains.
It will also be fully accessible for people with pushchairs, heavy luggage or disabilities.
Further information
The new ticket hall is scheduled to open in December 2011 for Thameslink services, with work continuing unobtrusively for Crossrail services which are due to begin running from 2017.
Once Crossrail trains begin to operate from 2017, Farringdon will handle over 140 trains every hour including London Underground services. This would make Farringdon busier than Clapham Junction.
Farringdon station is one of 8 new Crossrail stations along the central tunnel section. Crossrail will run 74 miles from Maidenhead and Heathrow in the west, through new twin-bore 13 mile tunnels under central London to Shenfield and Abbey Wood in the east. It will bring an additional 1.5 million people within 60 minutes commuting distance of London's key business districts.
When Crossrail begins it's phased operations in 2017 it will increase London's rail-based transport network capacity by 10 per cent, supporting regeneration across the capital, helping to secure London's position as a world leading financial centre, and cutting journey times across the city.
Thameslink is one of Britain's busiest rail routes and the only overground railway to go through central London. The £5.5 - £6 billion modernisation scheme will deliver a dramatic increase in capacity, with 12-carriage trains running 24 times an hour through central London meaning more seats and improved reliability for passengers.
Rail media enquiries
Media enquiries 020 7944 3021
Out of hours media enquiries 020 7944 4292
Switchboard 0300 330 3000
Published 15 July 2010