Press release
Minister reviews flood recovery efforts
Floods Minister Brandon Lewis met ministers to ensure a co-ordinated approach is being taken to assist those affected by severe weather.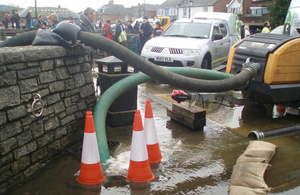 Following yesterday's emergency COBR meeting, Flood Recovery Minister Brandon Lewis chaired a meeting of key ministers today (Tuesday 7 January 2014) to ensure a co-ordinated approach is being taken to assist communities recovering from the recent severe weather and tidal surges.
An important action agreed was to merge the recovery efforts of all agencies so that those dealing with the eastern coastal areas affected before Christmas were co-ordinating work with those dealing with the more recent post-Christmas and New Year weather that hit other areas of the country.
Mr Lewis praised the dedication of those involved in the recovery effort and emphasised the need to continue the hard work so that everything possible is done to assist those affected. The minister also confirmed that he had activated the Bellwin scheme for emergency support to ensure local authorities could access financial assistance.
With more bad weather expected ministers have reminded people in at-risk areas to make sure they follow the advice from the Environment Agency, check the latest flood warnings, and sign up for free flood alerts.
Mr Lewis said:
"Many households and businesses across the country have been disrupted by this adverse weather and flooding and the government is making sure the best possible recovery help, and support is put in place.
"We will reimburse councils, under the Bellwin scheme, so they can clear up the immediate aftermath with financial confidence and today I have met with colleagues across Whitehall to make sure that our response is fully co-ordinated and to look at what further practical support can be offered.
"Once again, I would like to pay tribute to the fantastic work that is being done on the ground by the Environment Agency, the emergency services, local authorities and charities, who are all making extraordinary efforts to get life back to normal as quickly as possible."
Picture courtesy of the Environment Agency, copyright all rights reserved.
Published 7 January 2014