News story
Minister reveals value of intellectual property to UK businesses on visit to Nottingham
Two new reports, 'The Role of Intellectual Property Rights in the UK Market Sector' and 'Film, Television & Radio, Books, Music and Art: UK …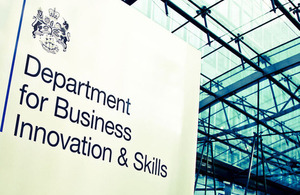 Two new reports, 'The Role of Intellectual Property Rights in the UK Market Sector' and 'Film, Television & Radio, Books, Music and Art: UK Investment in Artistic Originals' commissioned by the Intellectual Property Office (IPO), highlight that more money than ever before is being invested in products and services that have protection in copyright, designs, patents and trade marks.
The reports also show that £3 billion of copyright investment is not included in National Accounts, meaning that a substantial amount of money is not accounted for in the value of intellectual property growth. The IPO is now working with the Office of National Statistics (ONS) to factor that into Gross Domestic Product (GDP) in 2012.
Baroness Wilcox was in the city to find out how the University of Nottingham and low carbon company 4energy have benefited from protecting their intellectual property. The first stop was at the University's Technology Demonstrator, which is a showcase for local businesses interested in getting their technology licensed for commercial development.
Baroness Wilcox said:
"These reports show that business investment in intellectual property rights has more than doubled since 1990 and were worth at least £65 billion in 2008, a figure which is expected to continue to grow. This is a significant amount of growth and it's important that this investment continues to build over the coming years.
"The University of Nottingham's Technology Demonstrator is a great platform for developing intellectual property as it gives inventors the chance to show their creations to a potential worldwide audience. We have also recently launched a guide for universities to explain how they can best manage their intellectual assets and reap the financial benefits.
"It's wonderful to meet students, researchers and inventors who are passionate about their creative ideas and have a world class venue in which they can develop."
The University of Nottingham is one of the leaders in the UK when it comes to taking its discoveries from the lab into the marketplace. Baroness Wilcox met inventors like Professor Barrie Hayes-Gill, who runs Monica Healthcare Ltd. With support from the University, he has created commercial products out of his research findings, including a portable wireless foetal monitoring device for at risk pregnancies.
Professor Chris Rudd, Pro-Vice-Chancellor for Knowledge Transfer at the University said:
"This visit to Nottingham by the Minister responsible for protecting and developing Britain's innovation and new business ideas for the future – our 'intellectual property' – signals the real value and great potential that exists in UK universities as engines of ingenuity. The University of Nottingham has a very strong track record transforming brilliant discoveries and research insights from theory into reality."
Following the visit to the University, Baroness Wilcox travelled to low carbon company 4energy who design and manufacture low energy cooling equipment for the Telecoms sector. They have made the most of the IPO's green patent channel. This process gives priority to inventions with environmental benefits which can help to speed up the patent process.
There have now been over 500 green patent applications in the UK under the green channel application scheme, with over 100 of those applications being successful.
Baroness Wilcox said:
"The Government is committed to providing businesses with incentives to be environmentally friendly and the green patent channel is vital to that process. The scheme offers businesses the chance to bring their inventions quickly into the marketplace to be competitive.
"Businesses who decide not to protect their intellectual assets are taking a huge financial risk because they may lose any rights to their creative ideas. We would therefore always encourage companies to make an investment and make sure they gain the financial benefits they are entitled to.
"The recent Hargreaves review of intellectual property in the UK highlighted that strong evidence should drive future policy and it is clear from the reports published today that protecting rights can add billions of pounds to UK businesses."
Stuart Redshaw, Chief Technology Officer and Co-Founder of 4energy Ltd said:
"The ability to accelerate the timescales from application to granting has made a significant difference to the way we are able to operate our business. We have been able to bring forward expansion plans and develop new customers with far greater confidence knowing that our intellectual property is protected."
The main findings of the reports are:
Investment in UK businesses covered by intellectual property rights is worth at least £65 billion per year
Knowledge investment in rights protected by patents, trademarks, design and copyright has more than doubled since 1990
Over the last ten years business growth from intellectual property investment has been bigger than that of business investment in their fixed capital (for example, hardware, office material and general business spending, but excluding computers)
Copyright and design are the biggest contributors to growth of intellectual property rights - copyright includes software as well as music, publishing, broadcast and film
Around £3 billion of copyright investment is currently not included in national accounts and the Intellectual Property Office is working with the Office of National Statistics to adjust Gross Domestic Product starting in 2012.
The IPO are now working alongside the Office for National Statistics to provide these figures on a annual basis and highlight the growth of intellectual property in the market sector. The two reports have been released today and full details can be found on the IPO website www.ipo.gov.uk.
Notes to editors
The Intellectual Property Office (IPO) is within the Department for Business, Innovation, and Skills (BIS) and is responsible for the national framework of Intellectual Property rights, comprising patents, designs, trade marks and copyright.
Its role is to help manage an IP system that encourages innovation and creativity, balances the needs of consumers and users, promotes strong and competitive markets and is the foundation of the knowledge-based economy.
It operates in a national and an international environment and its work is governed by national and international law, including various international treaties relating to Intellectual Property (IP) to which the United Kingdom is a party.
For further information, please contact Dan Palmer on 0207 215 5303 or e-mail communications@ipo.gov.uk.
Notes to Editors
Contact Information
Name BIS Press Office Job Title
Division COI Phone
Fax
Mobile
Email NDS.BIS@coi.gsi.gov.uk
Name Dan Palmer Job Title
Division Department for Business, Innovation and Skills Phone 020 7215 5303 Fax
Mobile
Published 8 July 2011