World news story
Minister promotes UK transport excellence in Hong Kong
UK Secretary of State for Transport, the Rt Hon Patrick McLoughlin visited Hong Kong on 24 October.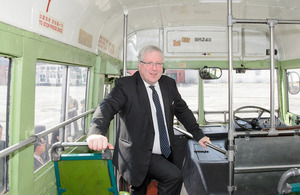 Mr McLoughlin met Hong Kong Transport and Housing Secretary Professor Anthony Cheung to discuss co-operation on transport infrastructure and aviation. Meetings with bus company KMB, Hutchison Port Holdings and the underground operator MTR Corporation were an opportunity to see first-hand Hong Kong's strengths in transport and logistics and to promote UK excellence in the sectors.
The Secretary of State also met British business to discuss opportunities to increase UK involvement in Hong Kong's infrastructure projects and saw plans to expand HK international airport. Rounding off the visit Mr McLoughlin joined celebrations to launch British Airways new A380 service to Hong Kong.
Further Information
Follow the British Consulate-General Hong Kong on Facebook and twitter @UKinHongKong
Published 24 October 2013