Press release
Minister prepares the ground for new Robotics Centre at Culham
UKAEA is starting construction of a new centre for the development of Remote Applications in Challenging Environments (RACE).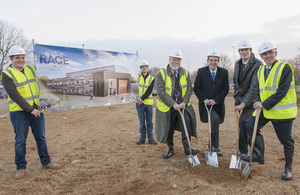 The Rt. Hon. Greg Clark MP, Minister of State for Universities, Science and Cities, visited the UK Atomic Energy Authority's (UKAEA's) Culham Science Centre on Thursday 22 January to formally mark the start of the construction phase of a brand new robotics and remote handling centre – RACE.
When fully operational by the end of 2015, the purpose-built, 3,000 square metre RACE building will conduct R&D into many applications of this technology. It will be a key centre for implementing the Government's Robotics and Autonomous Systems strategy, announced in July, which aims to equip the UK to compete in this emerging global industry.
RACE capitalises on the remote handling systems developed at Culham for the Joint European Torus (JET) fusion project and will enable customers to apply this knowledge to their own fields. It will give access to state-of-the-art test facilities, robotic equipment and expertise to SMEs, multinationals, research laboratories and academia from areas such as space applications, deep sea exploration, fusion research and the advanced nuclear fission industry.
The RACE facility brings together a broad range of expertise from the UK Atomic Energy Authority and its partners the National Nuclear Laboratory, TWI, the National Physical Laboratory and the Nuclear Advanced Manufacturing Research Centre.
RACE's Director, Dr Rob Buckingham said
Robotic technology will be fundamental to the delivery of future nuclear power. In resolving the complex problems that fusion and fission power present we will be in a much better position to address commercial needs in other sectors, from mining to oil & gas extraction and processing, through to space exploration. We are also finding direct links with seemingly dissimilar subjects such as autonomous cars, which rely on advanced sensing and mapping technologies. It's great to have the support of the Minister in this important emerging sector.
Greg Clark MP said:
Robotics is an emerging industry in which the UK has a solid foundation and can take the lead. That is why we have identified robotics as one of our 'eight great technologies', and why we are committed to supporting the construction of world-leading facilities like RACE. Oxfordshire is a leading light in the robotics industry and this new centre will only go further to highlight the depth and breadth of scientific and research talent in the region.
For more information please contact Nick Holloway at the UK Atomic Energy Authority on 01235 466232 or email nick.holloway@ccfe.ac.uk
Notes to Editors
About RACE
RACE is now open for use by customers in existing premises at Culham Science Centre, while the new facility is constructed. Access models are tailored to suite the specific requirements of the user and range from full "member" status (with the ability to influence the development programme of the facility) to "user" status. For information contact RACE Director Rob Buckingham at rob.buckingham@race.ukaea.org.uk
RACE was announced as part of the City Deal investment into hi-tech research laboratories and businesses in Oxfordshire in January 2014, with the UK Government investing £7.8 million.
The UK Atomic Energy Authority brings to RACE its own experience with remote handling, honed over twenty years developing systems to maintain and upgrade the interior of Europe's JET nuclear fusion experiment at Culham. Remote handling at Culham has evolved to perform ever more complex tasks including welding, attachment of tiles and diagnostics, and detailed surveys.
RACE will provide support to an Assystem-led team that has secured a five-year multi-million euro contract to design, manufacture, install and commission the remote handling system for the ITER fusion device's divertor. (The consortium includes RACE, Soil Machine Dynamics Ltd, Finland's Technical Research Centre and the Tampere University of Technology). The divertor is a key component of the ITER machine. Located at the bottom of the vacuum vessel, it acts an exhaust system to extract waste and impurities from the fusion fuel in the vessel. The divertor remote handling systems include the equipment required to safely and reliably position as well as extract each of the 54 removable cassette modules. The system will bring together high tech robotics, advanced electro-mechanical systems, computer control and advanced virtual reality modelling.
Published 23 January 2015