World news story
Minister Owen Paterson launches GREAT Bus tour of Emerging Europe
The Rt Hon Owen Paterson MP (Secretary of State for Environment, Food and Rural Affairs) visits Poland on 5-6 August.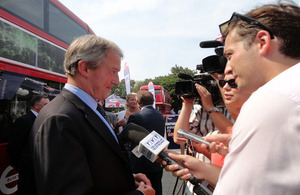 Minister Paterson discussed British-Polish environmental and commercial relations during meetings with Poland's Environment Minister Marcin Korolec, his Deputy – Poland's Chief Geologist Piotr Woźniak as well as with the Mayor of Gdynia, Wojciech Szczurek.
Minister Paterson's programme also included a visit to a shale gas drilling site in Borcz owned by PGNiG - Poland's largest oil and gas exploration and production company. The visit offered an opportunity to gain insight into Poland's approach to environmental aspects of shale gas exploitation. Minister Paterson noted that shale gas provides Poland with a solution for cleaner and more secure energy sourcing. With the UK being a global leader in the extraction of gas, the Minister discussed opportunities for further collaboration both on bilateral and EU front.
Minister Paterson also attended a "Business is GREAT Reception" held in Gdynia's main square. The purpose was to officially launch the GREAT Bus Tour of Emerging Europe. Recently rolled out in London, the bus began its tour across Emerging Europe to promote business opportunities for UK companies in this region. The Minister underscored that while the UK and Poland enjoyed excellent trade relations, there was still plenty of room for more British companies to expand in Central and Eastern Europe. He felt the British-Polish business relationship had great potential and hoped it would be fully developed through the GREAT Campaign, promoting Emerging Europe as a splendid commercial destination.
In anticipation of the arrival of the New London Bus, the GREAT Campaign was promoted on the Polish seaside with the help of a legendary, vintage Routemaster. Accompanied by a number of GREAT Minis, the historic double-decker visited Gdańsk, Sopot, Jastarnia, Hel and Władysławowo. A symbolic changing of the guard took place in Gdynia, where the Routemaster was replaced by the New London Bus. For more information on the GREAT Bus tour and photos from Minister Paterson's visit Follow THE BUS
Published 7 August 2013