News story
Minister opens new roundabout for Goole
£1 million Department for Transport funding helps boost local economy.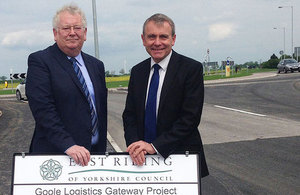 Transport Minister Robert Goodwill visited Goole today (30 May 2014) to open a new £1.5 million roundabout which will cut down on congestion and help boost the local economy.
The roundabout on the A614 Rawcliffe Road will replace the old staggered junction, opening up access into a proposed new development at Court House Farm to the north of the A614.
The scheme was funded thanks to £1 million from the Department for Transport's Local Pinch Point Fund and contributions from the private sector and East Riding Council.
Transport Minister Robert Goodwill said:
This new roundabout is fantastic news for Goole. It will cut congestion and make journey times more reliable, which is great for businesses using this route and residents living in the area. It is schemes like this that can really help the local economy. Thanks to £1 million of funding from DfT, government has made the area more attractive for development, with the potential to create 1,200 new jobs and as well as safeguarding over 360 existing jobs.
It was part of tranche 1 of the Local Pinch Point Fund announced in autumn 2012. It reflects the government's commitment to supporting economic growth by tackling barriers on the local highway network that may be restricting the movement of goods and people.
News desk enquiries
Press enquiries 020 7944 3021
Out of hours 020 7944 4292
Switchboard 0300 330 3000
Published 30 May 2014