World news story
Minister opens British Embassy in Bishkek
Senior FCO Minister of State formally opens the British Embassy in Bishkek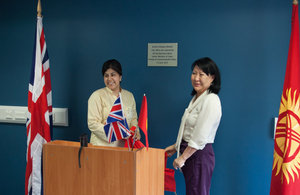 The Rt Hon Baroness Warsi, Senior Minister of State at the UK Foreign & Commonwealth Office, visited Bishkek on 13 June. This was Baroness Warsi's first visit to Kyrgyzstan, and the first by a UK Minister since the UK established an embassy in Kyrgyzstan last year.
Baroness Warsi met Kyrgyz Prime Minister Jantoro Satybaldiev, First Vice-Prime Minister Joomart Otorbaev, First Deputy Speaker of Parliament Asiya Sasykbaeva and Foreign Minister Abdyldaev. They discussed how to deepen UK-Kyrgyz relations; Kyrgyz political and economic reforms; regional political developments and commercial links. The Minister also met representatives of Kyrgyzstan's vibrant civil society and enjoyed a fascinating discussion with leading women of Kyrgyztan, including former President Roza Otunbaeva, over an informal dinner.
Baroness Warsi, together with Kyrgz Deputy Speaker Ms Asiya Sasykbaeva, opened officially the new British Embassy on Erkindik in Bishkek.
Published 13 June 2013