News story
Minister of State hails the Game of Three Halves
The 'Game of Three Halves' initiative brings young people from both sides of the community together through their shared love of sport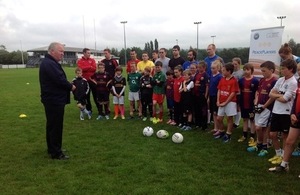 Minister of State for Northern Ireland, Mike Penning MP was a guest at the 'Game of Three Halves' initiative today, which aims to unite young people from both sides of the community by coaching them in three of Northern Ireland's most popular sports - rugby, football, and Gaelic football.
The three-day event is organised by PeacePlayers International as part of the build-up to this year's Belfast Interface Games.
In partnership with Ulster Rugby, the Gaelic Athletic Association (GAA), and the Irish Football Association (IFA), PeacePlayers International has set up camps in North, South, East and West Belfast, where children aged 9 – 13 from mainly interface areas can enjoy three fun-filled days of sport and make new friends from other parts of the city.
The Minister met representatives from PeacePlayers and young people taking part in the camp at Harlequins Rugby Club in South Belfast. He also had the opportunity to watch some of the sporting action.
Mike Penning said:
The Game of Three Halves is a fantastic example of how sport can bring young people together to promote respect for diversity, improve community relationships and tackle segregation. It's well known that sport is an effective driver of reconciliation, and I was delighted to see that demonstrated today.
By competing together on mixed teams, children from different sides of the community and social backgrounds in Northern Ireland are discovering just how much they actually have in common and new friendships are being made. This sends a really positive and encouraging message as we focus on building a shared future for everyone in Northern Ireland.
Coaches from Ulster Rugby, the GAA and the IFA train cross-community teams in all three sports and lead them in team-building activities aimed at developing positive relationships.
The sporting activity will culminate in the flagship event - the Interface Games on Friday 9 August - where participants from each of the camps in the North, South, East, and West will come together to play competitively against each other in mixed teams.
Published 1 August 2013